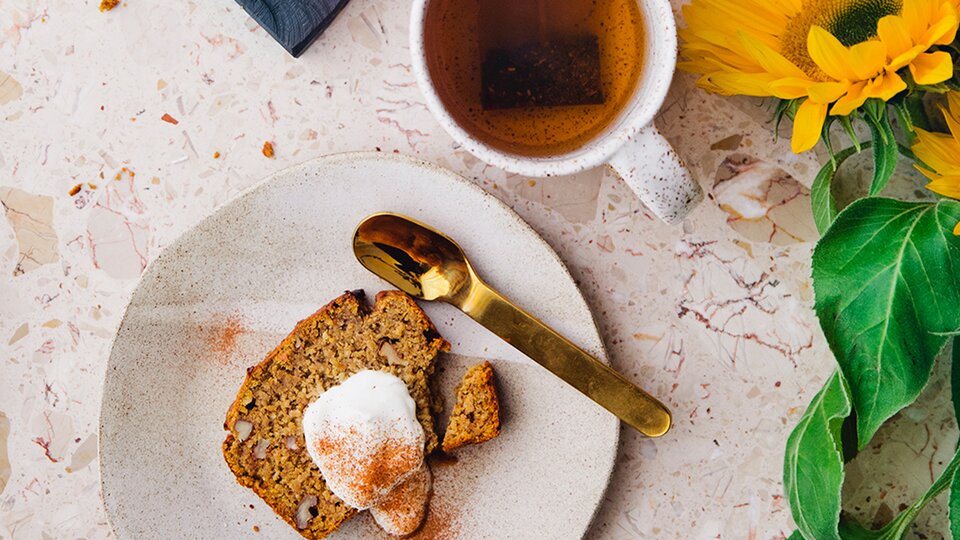 This nutritious (and delicious) pumpkin bread features Puori Plant Protein Booster, a calcium-fortified vegan protein powder that's an excellent addition to shakes and food recipes.
Wet ingredients Ingredients
1¼ cup pumpkin puree
10 date, pitted medjool dates
½ cup olive oil
3 whole egg
4 tbsp coconut sugar
Dry ingredients Ingredients
1 cup rolled oats
½ cup buckwheat flour
2 tsp baking powder
1 tsp cinnamon
¼ tsp nutmeg
¼ tsp ground cloves
½ tsp ground ginger
½ tsp sea salt
½ cup walnuts, chopped
Directions
Set the oven to 180°C/350°F.
Place the pumpkin puree in the food processor along with the rest of the wet ingredients and mix until smooth.
Add all dry ingredients to a bowl and stir to combine.
Pour the wet mixture into the bowl with dry ingredients and gently combine.
Place baking paper in a rectangular bread dish or baking dish or grease it with oil.
Pour the batter into the dish and bake on the middle rack for 45 minutes. The cake is ready if an inserted toothpick comes out clean.
Let cool on a wire cooling rack.