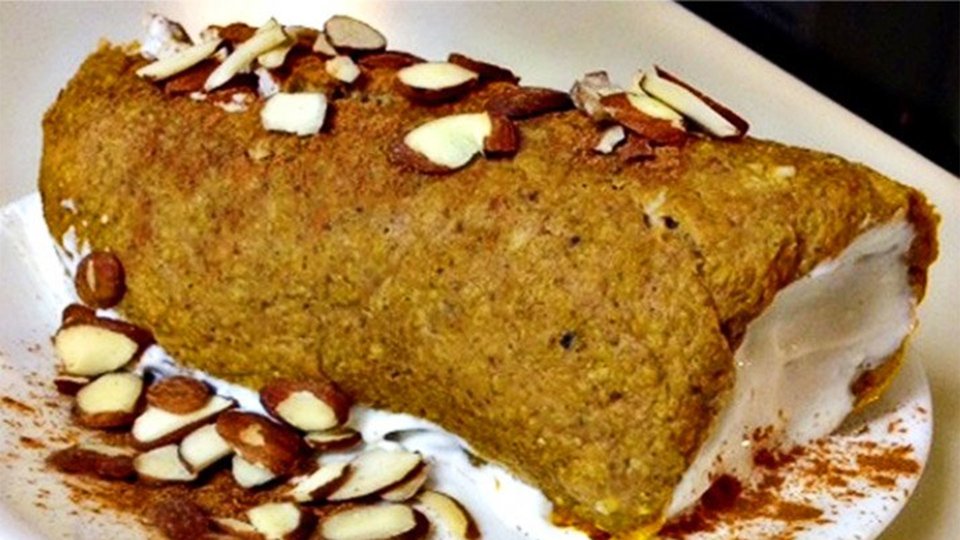 Enjoy this classic fall dessert without sacrificing your skinny jeans. It's tasty, seasonal, and low-carb!
Pumpkin Roll Ingredients
5 egg whites
2 whole egg
½ cup pumpkin, canned
¼ cup oat bran
½ cup Splenda
½ tsp baking soda
½ tsp cinnamon
½ tsp nutmeg
Filling Ingredients
½ cup nonfat plain Greek yogurt
2 oz fat-free cream cheese
¼ cup almonds, slivered
Directions
Preheat oven to 350 F.
Blend all the pumpkin roll ingredients in a large bowl until smooth.
Pour batter in a pre-sprayed 8x8 or 8x11 baking pan lined with parchment paper.
Bake for 10 minutes or until golden brown.
Remove from oven and place onto aluminum foil. Carefully roll up the cake and secure with aluminum foil.
Place in the refrigerator for at least one hour.
As cake is cooling, blend yogurt and cream cheese until smooth.
Spoon the mixture into pumpkin roll.
Top pumpkin roll with slivered almonds and cinnamon.