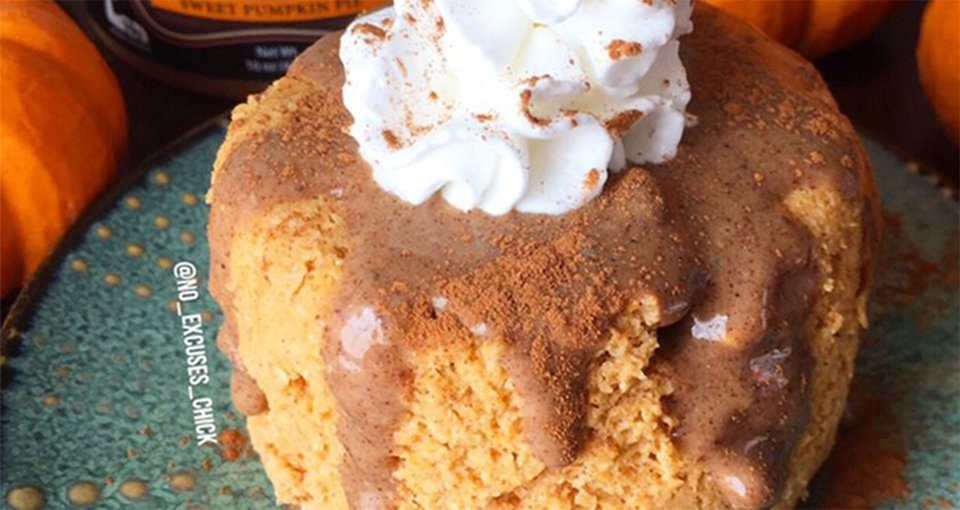 There's no need to restrict all things pumpkin to the fall months. Even though summer's approaching, I've been craving pumpkin pie like no other! Good thing this pumpkin protein mug cake satisfies my cravings, fits my macros, and is ready in less than 5 minutes. Bam. Cake, get in my mouth! This cake is satisfying enough to replace one of my regular meals, or have as an extra meal on leg day.
Cake Ingredients
20 g vanilla whey protein powder
2 tbsp coconut flour
1½ tsp powdered Stevia
¼ tsp baking powder
¼ tsp cinnamon
⅛ tsp nutmeg
⅛ tsp ginger, powdered
⅓ cup pumpkin puree
3 tbsp egg whites
2 tbsp unsweetened cashew milk
¼ tsp vanilla extract
Sauce Ingredients
3 tbsp sugar-free maple syrup
1 tbsp pumpkin spice peanut butter
Additional topping Ingredients
1 tbsp fat-free whipped cream
Directions
Whisk together dry ingredients.
Mix in wet ingredients.
Lightly spray an oversized coffee mug with cooking spray, and spoon batter in.
Microwave for about 2 minutes.
Dump out cake onto a small plate to cool.
Meanwhile, combine syrup and pumpkin spice peanut butter to make your sauce.
Smother cake with sauce and fat free whipped topping. Enjoy!