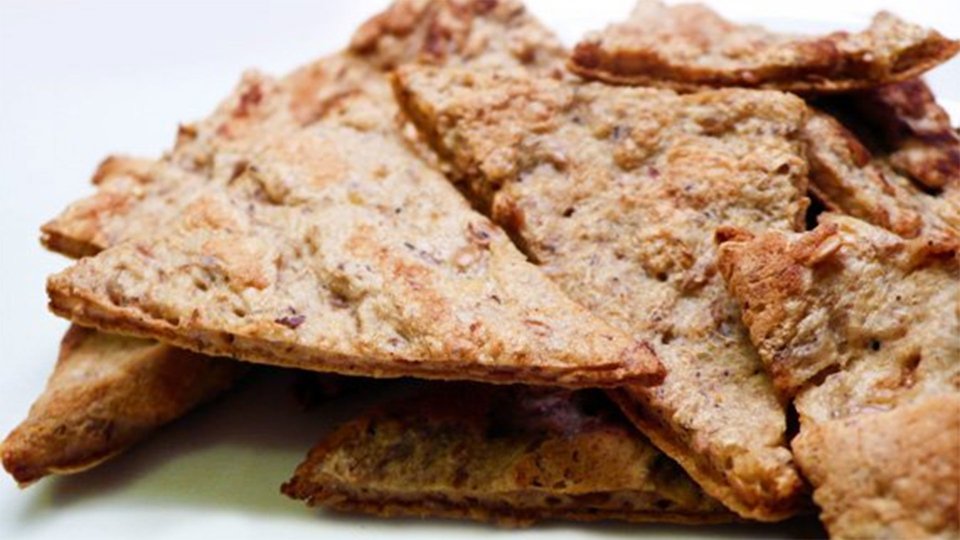 My protein chips are more like tortilla chips you can dip into all sorts of things like guacamole, salsa, cream cheese, or hummus. They're far healthier than store-bought tortilla chips and pack a healthy serving of protein ka-POW!
Ingredients
¾ cup liquid egg whites
⅛ cup chickpea flour (besan)
1 tbsp psyllium husk powder
1 tbsp ground flaxseed
1 tbsp pea protein powder
½ tsp sea salt
Directions
Blend all ingredients into a pancake-like batter.
Spread batter as thin as possible on a piping-hot non-stick pan (further made non-stick with some coconut oil or PAM spray). Use a spoon to spread the mixture.
When one side is cooked, flip it to cook the other. You can either make one large pancake or two smaller ones.
When the pancake is done, add extra salt, dried herbs, or a drizzle of olive oil to the top. Slice pancake into tortilla-chip-sized rectangles or triangles.
Place chips on a baking pan and broil until one side is nicely browned. Flip chips and broil until the other side is brown and crunchy as well.
Eat up. They're best eaten warm because, as they cool, they lose some of their crunchiness. If that happens, just pop them in the oven again and the crunch bounces back.