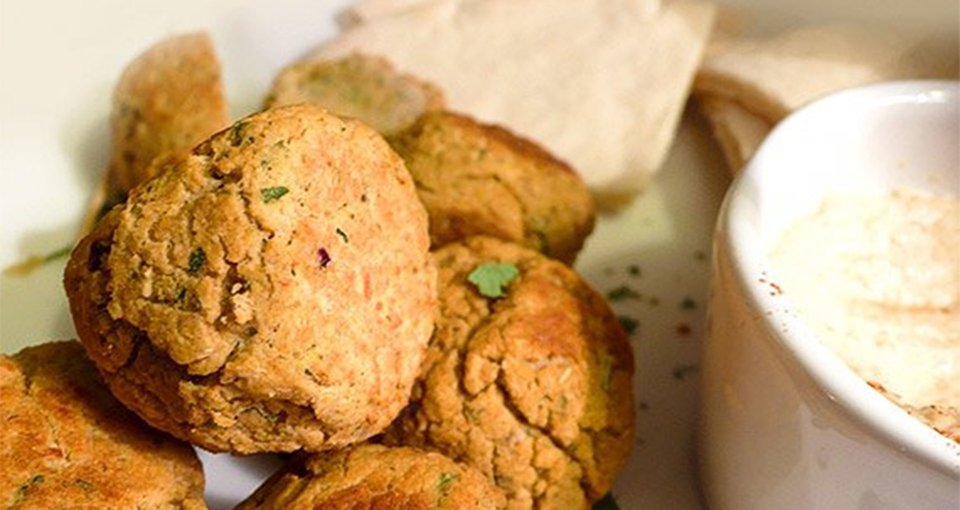 I set out to answer a few burning questions: Is it possible to make a low-fat and lower-carb falafel? Can we keep everything that makes falafel taste great and get rid of the things that make it unhealthy? And, most importantly, can we up the protein content? Guess what, friends? We can.
Ingredients
½ cup liquid egg whites
⅜ cup(s) pea protein powder
1 can chickpeas, cooked and drained
¼ cup oat flour
¼ red onion, diced
1 clove garlic, minced
1 tbsp flat-leaf parsley
2 tbsp lemon juice
½ tbsp cumin
½ tbsp coriander
½ tbsp paprika
1 tbsp sea salt
Directions
Preheat oven to 375 degrees F (190 degrees C).
In a bowl or mixer, pulse together the above ingredients; you want to retain some of the batter's texture, so just pulse the mix until the chickpeas are mushy.
Shape mixture into balls or fritters and place them on a baking tray. Bake in the oven for 15 minutes.
Turn falafel balls over so they brown evenly. Bake for another 15 minutes.
If falafel is thoroughly browned, take them out of the oven.
Eat them! They're good dipped in hummus and also delicious dipped in Greek yogurt with fresh coriander and onions. They're also good inside pita bread, or alongside a good old-fashioned salad!
Make fluffier falafel: Try adding chopped nuts, flaked coconut, or extra spices to the recipe. You could also roll the falafel balls in ground almonds before you bake them. Don't be afraid to experiment!