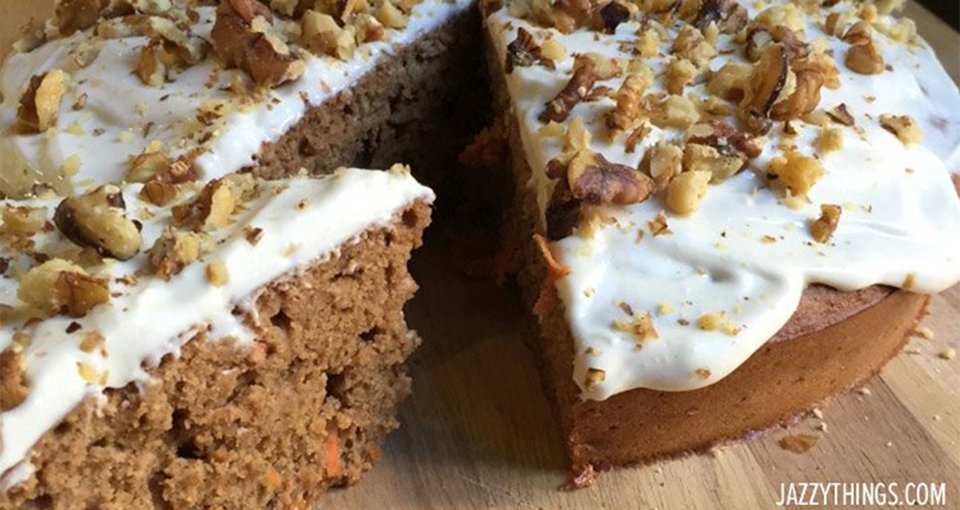 What's up, doc? You don't have to be a bunny to know carrots are delicious. Not only is this root vegetable packed with antioxidant-rich beta-carotene, it's also a great source of a number of other nutrients and antioxidants. But when you get sick of eating them steamed, boiled, or julienned, test out an even better alternative: cake! This recipe calls for a whopping two cups of grated carrots, and pairs it with whole-wheat pastry flour and coconut sugar. But this is no ordinary carrot cake. The addition of whey and Greek yogurt turn this delicious dish into a protein powerhouse. Bake it, and dig in.
Cake Ingredients
1½ cup pastry flour
1 cup oat flour
1 cup coconut sugar
1 tsp baking powder
3 scoop NLA For Her: Her Whey, Vanilla Cupcake
2 tsp cinnamon
1 tsp nutmeg
½ tsp ground ginger
1 tsp vanilla extract
⅔ cup nonfat plain Greek yogurt
2 tbsp extra virgin coconut oil
1½ cup almond milk
2 cup carrots, shredded
Frosting Ingredients
4 oz neufchatel cheese
½ cup fat-free cottage cheese
1 serving (2 scoops) NLA For Her: Her Whey, Vanilla Cupcake
¼ cup almond milk
¼ cup walnuts, chopped
Directions
Combine all ingredients, excluding carrots.
Stir in carrots.
Pour into 9-inch cake pan.
Bake at 350 degrees F for approximately 35-40 minutes.
Combine the ingredients for the frosting in a food processor or blender.
Frost the cooled cake. Top with walnuts.