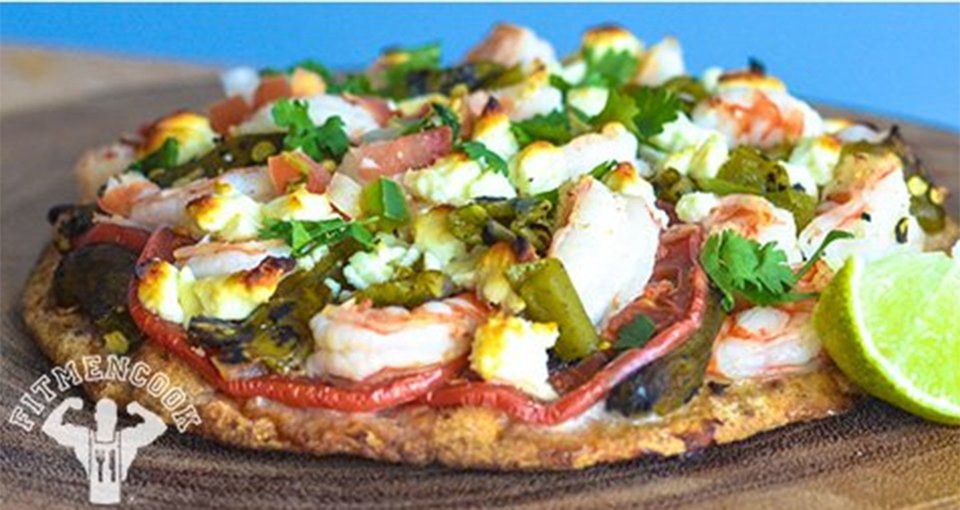 We've all been there: You've finished a workout, caught your breath, and you only have one thing on your mind—refueling. If you're weary of the same old generic meals, switch up your diet to keep it interesting and delicious. Here's one of the meals I enjoy. The best part: It only takes 20-minutes to create and it's easy to customize and make your own.
Ingredients
6 oz shrimp
1 serving multigrain pizza crust
¾ tomatoes
¼ cup reduced-fat feta cheese
1 tbsp cilantro
1 tsp lime juice
1 tbsp green chilies, diced
¼ cup red onion, diced
Directions
Set oven to 405 degrees F.
Saute or grill your onions (or other veggies) in a pan using coconut oil spray.
Slice tomatoes, chilies, and any other veggies. Place them evenly on top of your pizza crust or pita bread. Add your grilled onions.
Then, add your choice of cooked protein. Cut it into pieces and scatter evenly over the pizza dough.
Sprinkle feta cheese on top. You can add cilantro as well, but I like the taste of fresh cilantro so I save that until the end.
Bake on the oven rack, NOT a baking sheet, for 15 minutes. This will ensure the pizza crust is not soggy, but firm and crispy. Remove from the oven and add any extra topping.
Devour! No really, get after it. You earned it!