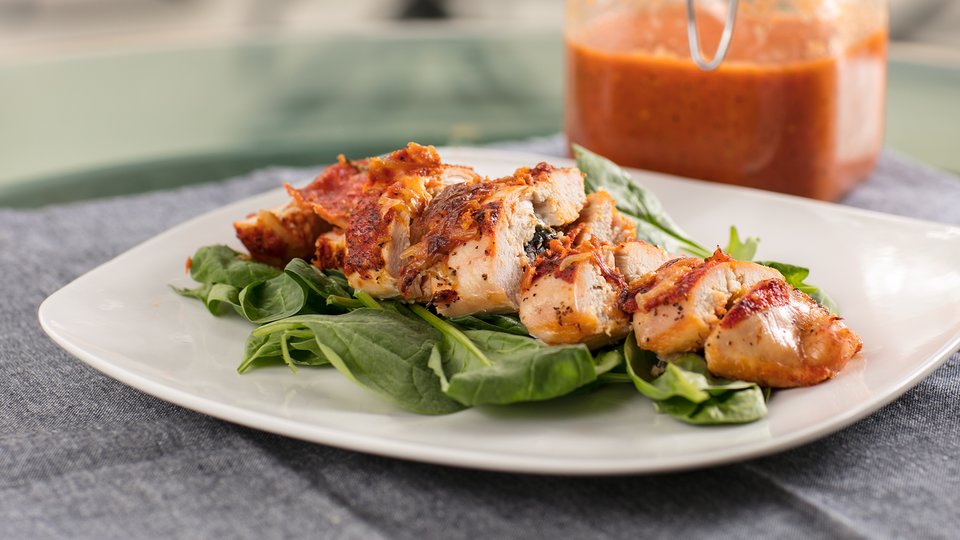 Who doesn't love pizza? But, when your goals say you can't have pizza, you've got to think of something that combines the same awesome flavors in a macro-friendly way.
Ingredients
3 piece chicken breast, pounded out to ¼-inch
½ cup marinara sauce
3 oz pepperoni
3 tbsp black olives, sliced
1 cup spinach
3 oz fat-free mozzarella cheese
½ cup fresh basil leaves
salt and pepper to taste
Directions
Butterfly the chicken breast by slicing right down the middle, taking care not to cut all the way through.
Place the butterflied breasts between two sheets of parchment paper and hammer the chicken to about a 1/4-inch thickness.
Season both sides of the breast with salt and pepper. Spread marinara sauce on one side of the chicken (see Rob's marinara sauce recipe to make your own).
Add pepperoni, chopped spinach, olives, and 1 ounce of mozzarella to one side. Sprinkle with chopped basil, then fold other side over. Use toothpicks to hold the two sides together. Top with additional marinara sauce, and sprinkle with mozzarella cheese.
Place chicken breasts in a baking dish and bake for 30-40 minutes at 375 degrees F until chicken is cooked through. Remove the toothpicks before serving.