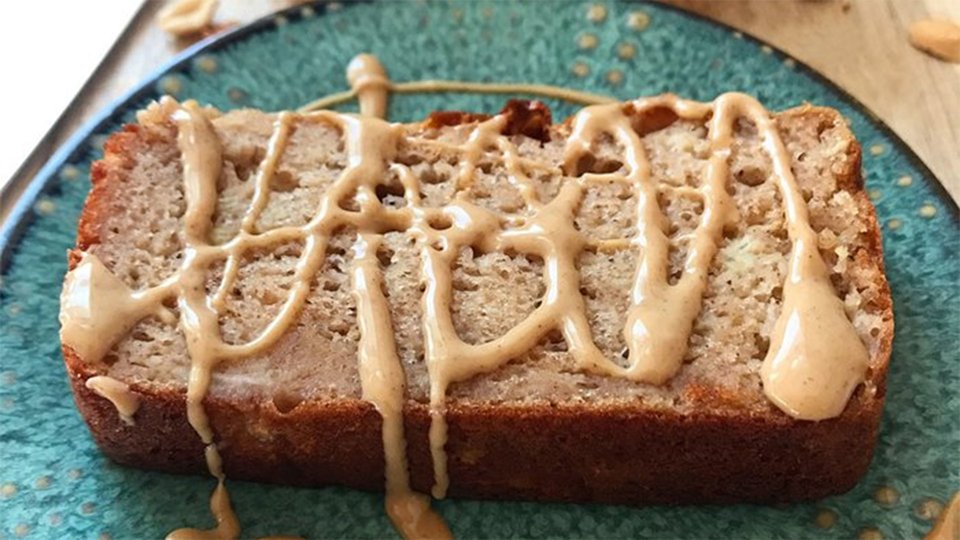 I love banana bread, and I love bananas with peanut butter, so this healthy peanut butter banana protein bread just needed to happen! It's super moist with a hint of cinnamon, and it's packed with protein while still being relatively low in fat. Most importantly, it's delicious. It's so delicious you'll eat one slice and just have to go back for another. With these macros, that's no problem. But don't expect it to be easy to stop!
Ingredients
80 g vanilla whey protein powder
6 tbsp spelt flour
¼ cup Pyure organic stevia blend
1 tsp cinnamon
¾ tsp baking soda
1 cup, mashed banana
½ cup nonfat plain Greek yogurt
½ cup egg whites
¼ cup cinnamon peanut butter
¼ tsp table salt
Directions
Preheat oven to 325 degrees F.
Whisk together dry ingredients in a large mixing bowl.
Add in mashed bananas and remaining ingredients and mix until just combined (overmixing will result in a less tender texture).
Lightly coat a bread pan or muffin tin with cooking spray and pour in batter.
Bake for 40-50 minutes until a toothpick or knife inserted in the center comes out clean (cupcakes should only need 25-35 minutes).
Note: Freeze the leftovers for up to one month. Simply microwave for 1 minute to thaw.