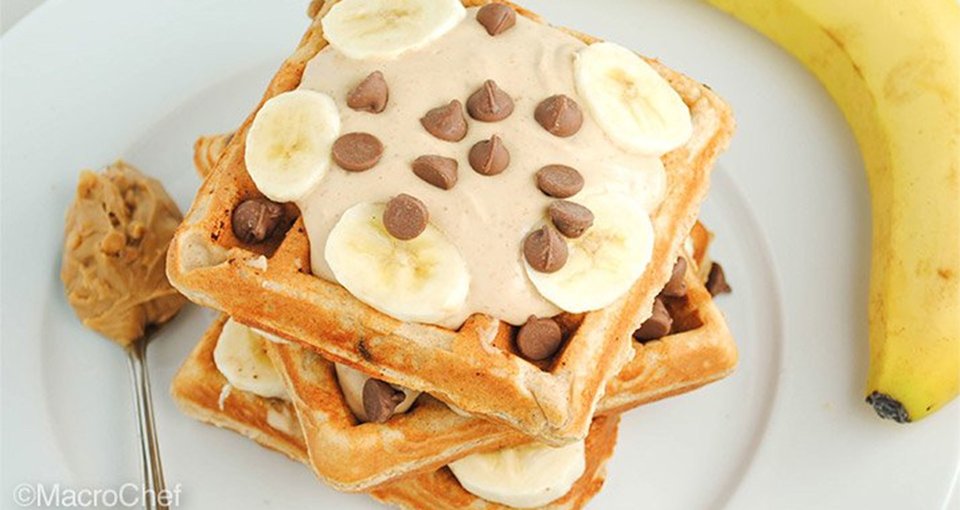 My brother always tells me that I never share my food when I make pancakes or waffles. I hadn't really thought about it, but he was right! The only times I make pancakes or waffles are when I eat them myself as a meal. So I made these for him. I was just going to make peanut butter banana waffles, but I decided to add some chocolate chips—you can never go wrong with chocolate chips in waffles. I love banana bread, and these waffles smelled and tasted just like banana bread. To make the waffles peanut-butter-flavored, I just used vanilla protein powder and added PB2 powdered peanut butter. It's basically defatted peanuts, so it gives the delicious peanut-butter flavor without the fat. I topped the waffles with a thick peanut-butter cream. I used plain nonfat Greek yogurt, natural peanut butter, maple syrup, and Stevia, but you can always use peanut flour and sugar-free maple syrup if you want fewer calories.
Waffle Ingredients
¾ cup whole-wheat flour
1 scoop MusclePharm Combat Power, Vanilla
2 tbsp PB2 powdered peanut butter
¼ cup granular erythritol
½ tsp cinnamon
¾ tsp baking powder
¼ cup skim milk
1 egg
⅓ cup nonfat plain Greek yogurt
½ large (8" to 8-7/8" long) banana
½ tsp vanilla extract
2 tbsp dark chocolate chips
Peanut Butter Cream Ingredients
⅓ cup nonfat plain Greek yogurt
2 tbsp natural peanut butter
2 tbsp Walden Farms Syrup
Directions
Preheat Belgian waffle maker to medium heat. Mix flour, protein powder, peanut flour, Stevia, cinnamon, and baking powder.
In a separate bowl, mash banana until smooth. Add egg, Greek yogurt, milk, and vanilla extract. Mix well.
Combine wet and dry ingredients. Gently mix together until combined. Add chocolate chips and fold into the batter. Spray waffle iron with nonstick spray. Pour batter evenly into waffle iron to make 4 Belgian waffles. Cook for about 4 minutes or until golden brown.
Combine all peanut butter cream ingredients and mix until smooth. Layer waffles with sliced banana. Top with peanut butter cream and more chocolate chips.