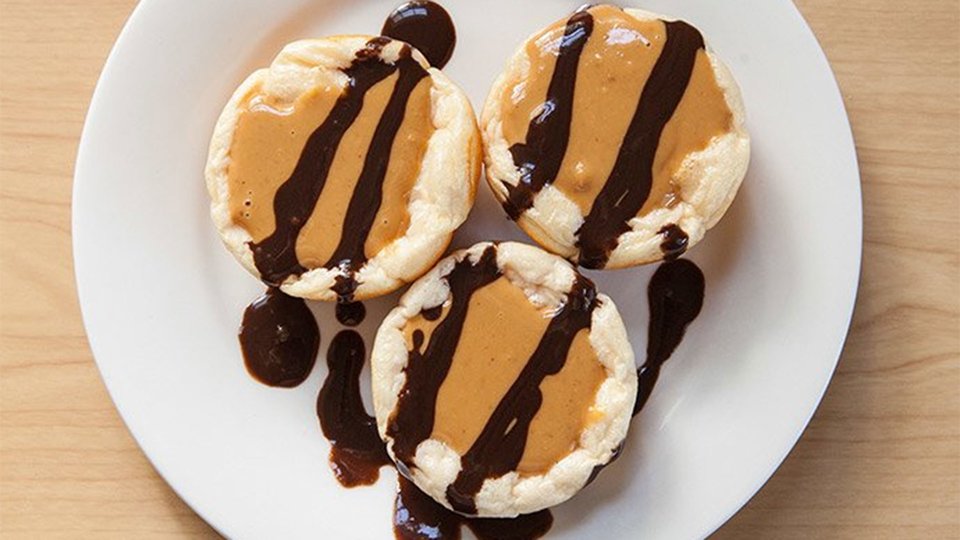 End your last meal of the day on a high note with this classic mixture of peanut butter and jelly that's likely been a favorite since you were a tot. These cups are a protein creation that fitness athlete Vinny Russo loves. "The combination of strawberry whey/casein protein powder, organic peanut butter, and chocolate remind me of a good ol' peanut butter and jelly sandwich—with a little extra chocolate delight thrown in there," he says. With a short ingredient list and huge taste, this recipe is a convenient, good-for-you indulgence.
Ingredients
200 g liquid egg whites
50 g Grenade Hydra Charge, Strawberry
28 g natural peanut butter
1 tbsp Walden Farms Calorie Free Chocolate Syrup
Directions
Preheat oven to 375 degrees F.
Mix egg whites and Hydra 6 together until you have a thick, pancake-like mix.
Spray a muffin tin with coconut-oil spray. Add egg-white mixture to the muffin tin, filling each tin 1/3 of the way.
Put the muffin tin in the oven and let the mixture bake for approximately 10 minutes, keeping a close eye on it.
Once finished, take out the muffin tin and let it cool for 3 minutes.
Weigh out your peanut butter and heat it in the microwave until it becomes liquid-like in texture.
Using a spoon, add the melted peanut butter to each cup.
Top off each PB&J cup with some Walden Farms chocolate syrup. Enjoy!