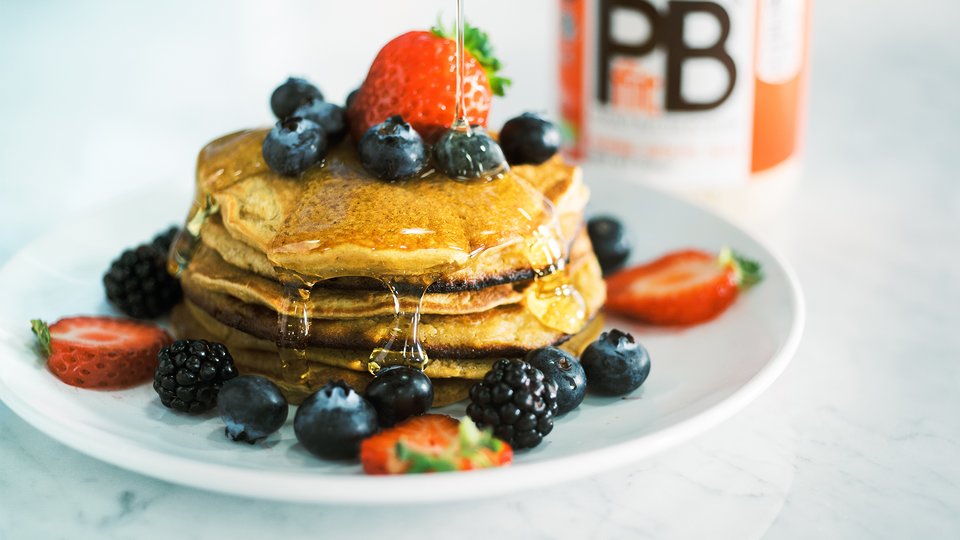 If you have a bit more time in the morning, or if you're looking for a high-protein alternative to your favorite breakfast treat, these gluten-free pancakes are the way to go. Made with a delicious, nutty combination of oat flour and PBfit, and sweetened with organic agave, these easy low-fat pancakes are full of complex carbs and bursting with peanut-butter flavor. Make them in the morning to start your day, or save them for a quick pre-workout snack. Morning, noon, or night, these pancakes are perfect for the occasion.
Ingredients
1 cup oat flour
¾ cup PBfit peanut butter
2 tsp baking powder
1 cup unsweetened almond milk
1 whole egg
2 tsp bBF Organic Agave
2 tbsp plain Greek yogurt
Directions
In a medium bowl, whisk together flour, PBfit, and baking powder.
Add the almond milk, egg, agave, and Greek yogurt. Mix until smooth.
Heat a lightly oiled nonstick skillet on medium heat.
Pour approximately 1/4 cup of pancake batter at a time into the skillet. When bubbles start to form on top of each pancake, flip it and cook an additional 1-2 minutes until it's cooked through.
Plate the pancakes and top with fresh fruit and additional agave.