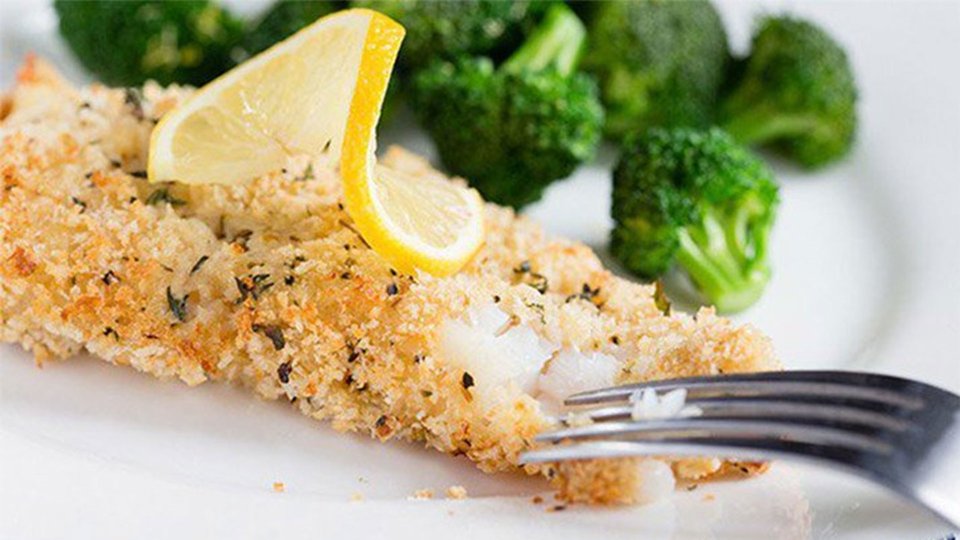 Serve up a fresh flavor your family is sure to love with this easy-to-make recipe!
Ingredients
16 oz cod atlantic
¼ cup whole-wheat flour
¼ tsp table salt
1 egg
2 egg whites
⅔ cup whole-wheat panko bread crumbs
¼ cup parmesan cheese, grated
½ tsp, ground oregano
½ tsp, ground basil, dried
¼ tsp, ground thyme
1 dash black pepper
Directions
Preheat the oven to 425 degrees F. Line a baking sheet with foil, and place a wire cooling rack on top of it. Place the prepared baking sheet in the oven to preheat.
Pat the fillets dry with a paper towel and season them with salt and black pepper.
In a shallow dish, stir together the flour, salt, and black pepper.
In a second shallow dish, whisk together the egg and egg whites.
In a third shallow dish, stir together the panko, parmesan cheese, dried oregano, basil, and thyme.
Dredge each fillet in the flour, shaking off any excess. Dip the fillet in the egg wash, allowing the excess to drip off.
Gently press the fillet into the breadcrumbs.
Spray the tops generously with cooking spray.
Carefully remove the preheated baking sheet, and place each fillet sprayed-side down on the cooling rack. Spray the other side with cooking spray.
Bake for 16-18 minutes, or until just cooked through.
Pro tip: Use a meat thermometer to make sure your fish has reached an internal temperature of 145 degrees F before plating, to guarantee that it's done.