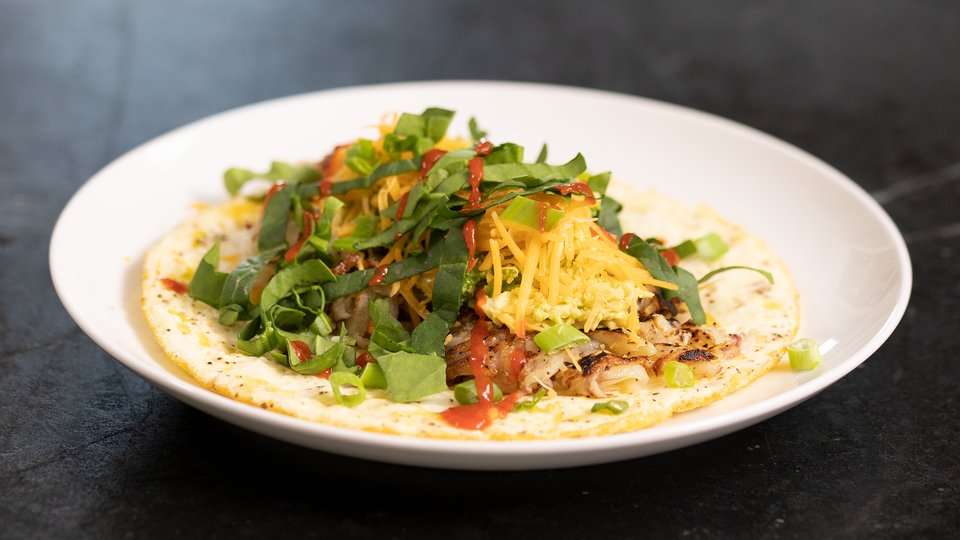 Guilty of swinging by that same old McDrive-Thru to grab a gains-destroying snack on the go? Start your morning off right with this quick and easy high-protein breakfast!
Ingredients
6 egg whites, beaten
1 tsp garlic powder
1 pinch sea salt
1 dash black pepper
200 g red potatoes, grated
1 tbsp olive oil
Condiments Ingredients
1 cup spinach
2 tbsp avocado, mashed
⅓ cup, shredded low-fat cheddar cheese
1 green onion, chopped
1 tsp sriracha
Directions
Grate the red potato into a bowl. Wrap up the grated potato in a paper towel or cheesecloth and squeeze out all of the moisture. This will make it easier to fry.
Set an 8-inch non-stick skillet on medium heat and add olive oil. Once the oil is hot, add the grated red potato and cook until the edges get crispy and turn brown, about 3-5 minutes. Season with a pinch of sea salt and pepper. When crispy, remove the potatoes from the skillet.
Lightly beat the egg whites with garlic, sea salt, and pepper.
Spray skillet with cooking spray. Pour half of the egg whites into the skillet and allow to cook in the bottom of the pan on medium heat. DO NOT scramble. Cook for 3-5 minutes, or until completely cooked through.
Remove the egg tortilla from the skillet and place in a taco holder to cool. Repeat with the other half of the egg whites.
To create the tacos, lay egg tortilla on a plate and layer potatoes, mashed avocado, cheddar cheese, green onion, and spinach on top. Drizzle with Sriracha, fold in half, and enjoy!