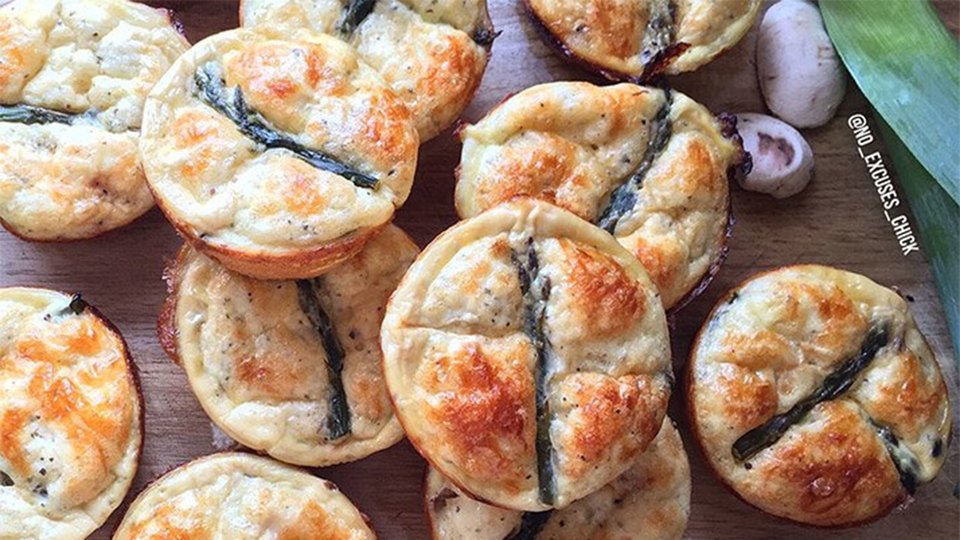 Ditch the crust for an appetizer that's light lower in carbs yet full of flavor! These little guys are surprisingly hearty thanks to the protein from the egg whites and the fiber from all those veggies. Did I mention the cheese? Yeah, that's probably my favorite part. Plus, you can either prepare these the night before and serve them cold, or whip them up fresh in the morning and serve warm. They're great either way!
Ingredients
1½ cup asparagus, ends trimmed and chopped into 1/2-inch pieces
1 cup leeks, bulb and lower leaf-portion, chopped
1 cup mushrooms, sliced
2 clove garlic, minced
6 whole egg
6 egg whites
½ cup fat-free cottage cheese
½ tsp, ground black pepper
½ tsp table salt
½ tsp, ground basil, dried
⅛ tsp nutmeg
1½ cup part-skim mozzarella cheese
Directions
Preheat oven to 350° F.
Generously coat a nonstick skillet with cooking spray.
Sauté chopped asparagus, leeks, mushrooms, and garlic in skillet until onions are translucent and garlic is fragrant, about 5 minutes.
While veggies cool, beat together whole eggs, egg whites, cottage cheese, spices, and 1 cup of mozzarella or feta until frothy.
Lightly coat cups of a muffin pan with cooking spray and divide sautéed vegetables between cups.
Pour egg mixture over vegetables, dividing evenly between cups.
Sprinkle quiche tops with remaining half cup of cheese.
Bake for 30-40 minutes until golden brown. Enjoy warm right away or store in the fridge to serve later.