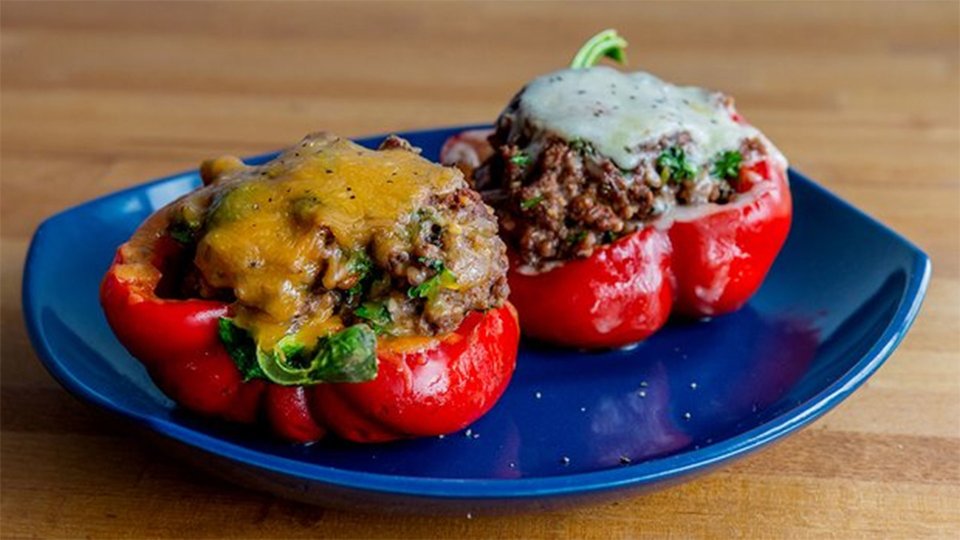 Stuffed bell peppers are one of the most popular recipes I make, and for good reason. Not only does it provide you with a serving of protein and vegetables, it creates a portable meal in a vessel you can eat. Say goodbye to dirty dishes, and dig into a stuffed pepper.
Ingredients
8 oz ground 99% fat-free turkey breast
1 red bell pepper
¼ cup reduced fat cheddar cheese, shredded
1 tsp garlic, minced
1½ tsp paprika
1 tsp cumin
¼ cup red onion, sliced
⅓ cup flat-leaf parsley
salt and pepper to taste
Directions
Season lean ground beef or turkey with garlic, smoked paprika, cumin, sea salt and pepper, red onion, and parsley.
Slice a bell pepper in half, and carve out the inside.
Place the halves in small microwave-safe bowls, and add a few tablespoons of water to the bowl to help the bell pepper soften while it cooks.
Stuff the bell pepper halves, and microwave for 3-1/2 to 4 minutes.
If desired, add a little reduced-fat cheddar or mozzarella on top, and microwave again for another minute. If you want to avoid cheese, try adding a little chunky marinara on top.
Enjoy with a complex carbohydrate such as brown rice or quinoa.
Boost for Gainers: Add 2/3 cup cooled, cooked brown rice or quinoa to the raw meat mixture to increase the amount of complex carbohydrates.