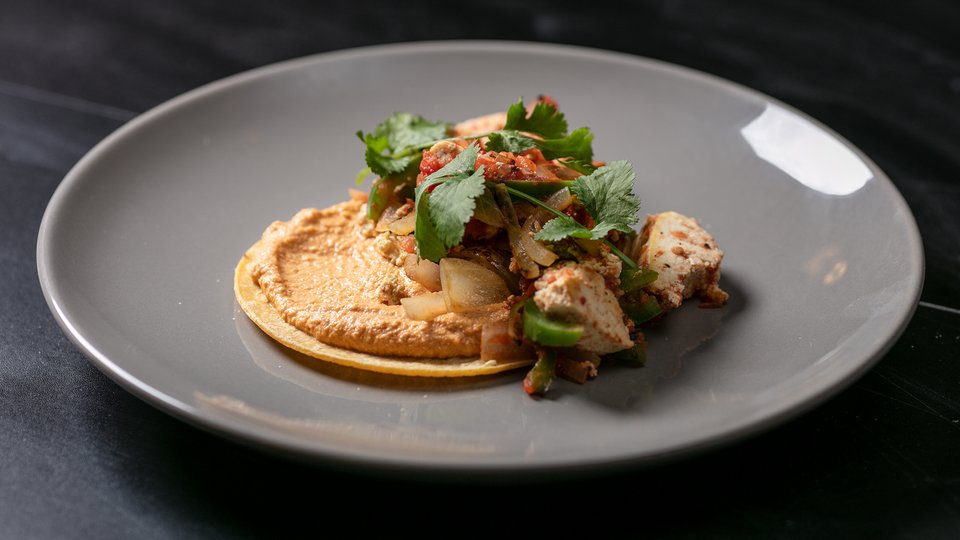 Substituting tofu for eggs in this classic southwest-inspired dish, this recipe is an excellent weekend breakfast or a high-protein alternative to oats and cereal. A completely vegan dish, the "cheese" in this recipe is made from soaked cashews and nutritional yeast, while the corn tortillas make this a gluten-free recipe that is sure to please.
Ingredients Ingredients
½ medium (2-1/2" dia) onion, chopped
1 jalapeno pepper, diced
1 tbsp cumin
1 tbsp, ground oregano
½ cup diced tomatoes
3 oz tofu, firm
¼ cup cilantro, chopped
2 corn tortilla
Cashew 'Cheese' Ingredients
¼ cup cashews, soaked
2 tbsp lemon juice
2 tsp paprika
1 tsp cayenne powder
1 tbsp nutritional yeast
Directions
Soak the cashews overnight, then drain and rinse.
In a blender, combine the cashews, lemon juice, paprika, cayenne, and nutritional yeast with a little bit of water, and blend until very smooth. Add water as needed to help the blending process and achieve desired consistency. Stop every 30 seconds to stir the mixture. Add water carefully: Mixture should be smooth and creamy, but not too runny.
In a skillet over medium-high heat, sweat the onion and jalapeno until soft. Add the cumin and oregano and cook one minute. Reduce heat to low and add the tomatoes and tofu. Let this mixture simmer 6-8 minutes, stirring occasionally. Finish with chopped cilantro.
Spread the cashew cheese on the tortillas, then top with the tofu mixture.