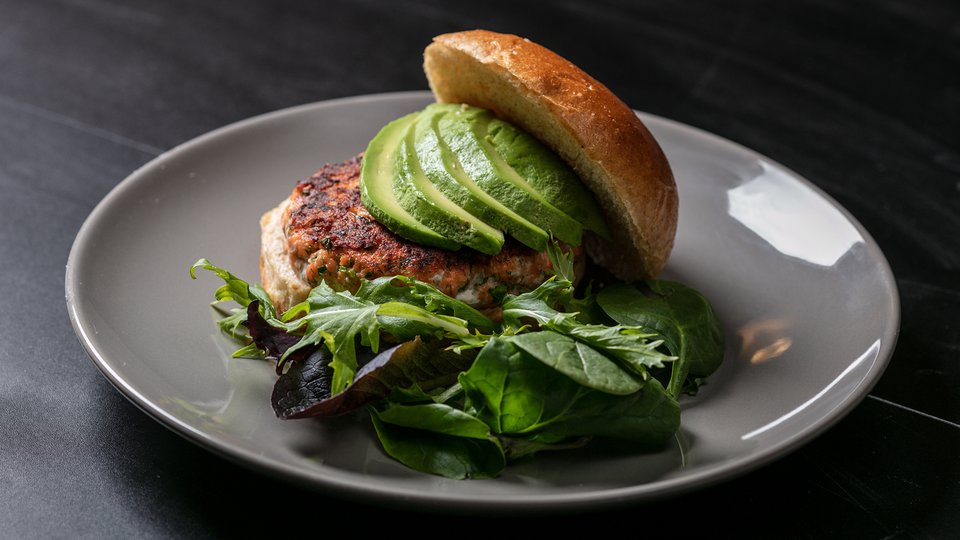 Making salmon burgers yourself ensures you'll end up with a meatier patty at the end than you can buy at the store, and have more control over what goes into it! Chopped shallots, Dijon mustard, parsley, capers, and dill all provide complimentary seasonings for this tasty take on a familiar fish dish, while using mashed avocado instead of cheese gives you the richness of a traditional burger with a healthier twist.
Ingredients
4 oz salmon fillet
1 tsp dijon mustard
1 shallot, finely chopped
2 tbsp parsley, chopped
2 tbsp, drained capers, canned, chopped
2 tbsp dill, chopped
2 tbsp bread crumbs
½ avocado
1 serving whole-wheat hamburger buns
1 cup mixed salad greens
Directions
Chop the salmon into small pieces, place in a mixing bowl, and add mustard, parsley, capers, dill, and breadcrumbs. Mix together thoroughly until the mixture is cohesive and somewhat smooth, with some decent-sized chunks of salmon remaining. Form this mixture into a patty.
Heat a sauté pan on high with olive oil. Gently place the salmon patty into the pan. Sear for 1 minute and reduce the heat to medium. Cook for another 3-4 minutes, then flip. Cook on the opposite side for another 4-5 minutes.
Smear the bottom bun with half of an avocado. Place the cooked salmon patty on the bun, and top with mixed greens.