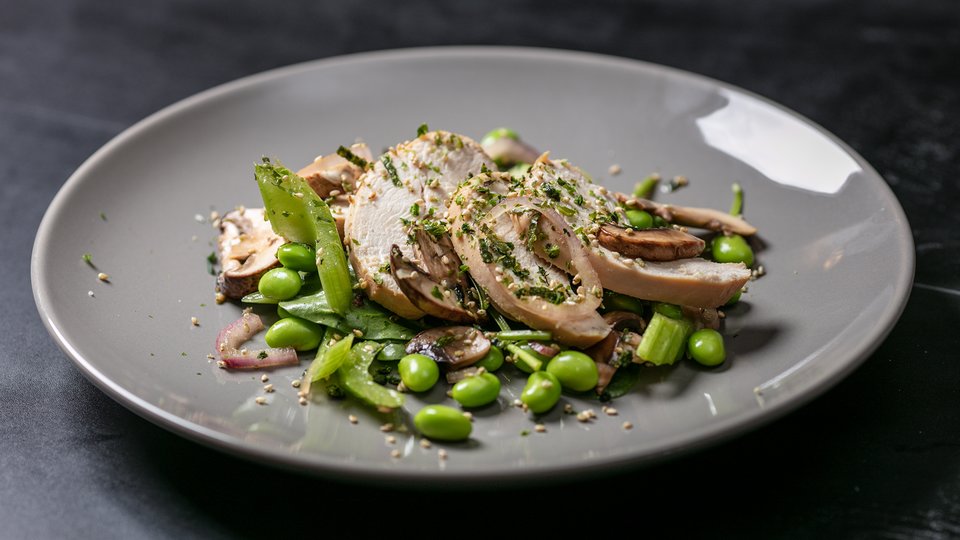 Cooking chicken in liquid, or "poaching," is a great way to cut out fat during cooking while maintaining flavor—and it's a lot easier than you think. Ginger, shallots, mushrooms, and soy sauce keep this dish rich and satisfying, while the edamame and spinach salad add protein and vitamins to keep it light and nutritious.
Chicken Ingredients
4 oz chicken breast, boneless and skinless
2 cup low-sodium chicken stock
1 knob ginger, thinly sliced
¼ cup soy sauce
½ cup rice wine vinegar
Salad Ingredients
½ cup edamame
½ cup celery, peeled and chopped
½ cup spinach
¼ cup shiitake mushrooms
1 shallots, thinly sliced
1 tsp soy sauce
1 tsp lemon juice
1 dash table salt
Directions
In a small mixing bowl combine the shiitake and shallot, adding a squeeze of fresh lemon juice, a pinch of salt, and a teaspoon of soy sauce. Stir to combine and set aside as you prepare the chicken.
Combine the chicken stock in a pot with the ginger, soy sauce, and mirin (rice wine vinegar). Bring this mixture to a simmer and add the chicken, poaching for roughly 20 minutes on a low simmer. To ensure the chicken is cooked, check to make sure the internal temperature reaches 160 degrees F.
For the salad, combine the edamame, spinach, and celery. Toss with the shallots and mushrooms using the liquid they are soaked in as a vinaigrette. Serve with sliced chicken over the salad and sprinkle furikake (optional) over everything.