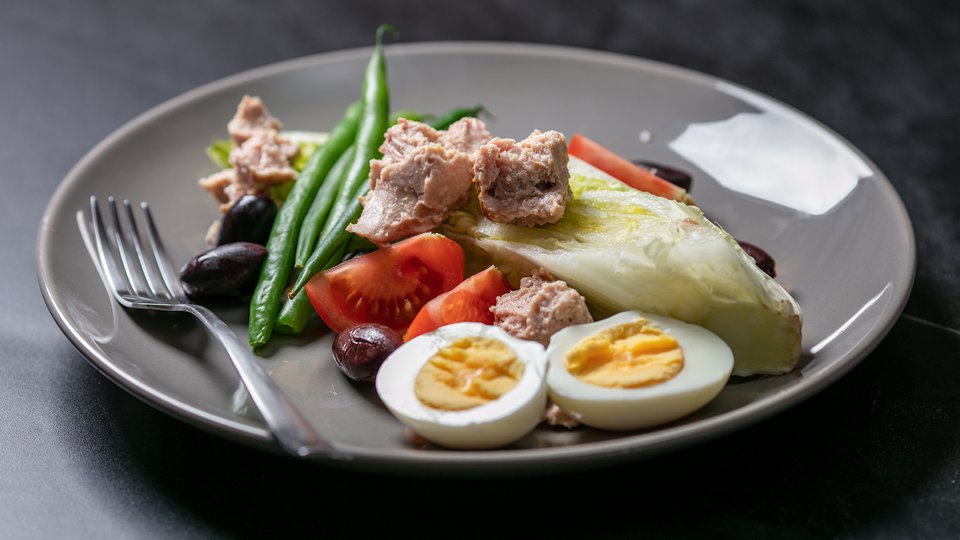 A classic French salad, this is another easier-than-it-sounds recipe using ingredients you probably already have. Canned tuna and hard-boiled eggs provide the protein, and diced tomatoes, olives, and green beans add flavor and nutrients. Dressed in a simple red wine and Dijon vinaigrette, this quick recipe will become a lunchtime fave in no time.
Ingredients
3 oz tuna, canned in water, drained solids
1 hard-boiled egg
1 tomato, diced
3 tbsp kalamata olives (pitted)
2 oz green beans
½ head romaine lettuce
2 tbsp red wine vinegar
1 tsp dijon mustard
3 tbsp olive oil
Directions
To cook the green beans, blanch in boiling water for 2 minutes, then shock in ice water.
Whisk together the red wine vinegar, Dijon, and olive oil to make a vinaigrette.
Chop the romaine and toss lightly with about half of the vinaigrette. Place dressed romaine in a bowl.
In a separate bowl, toss the diced tomatoes and cooked green beans in remaining vinaigrette.
Over the top of the romaine, arrange olives, tomatoes, beans, and egg.