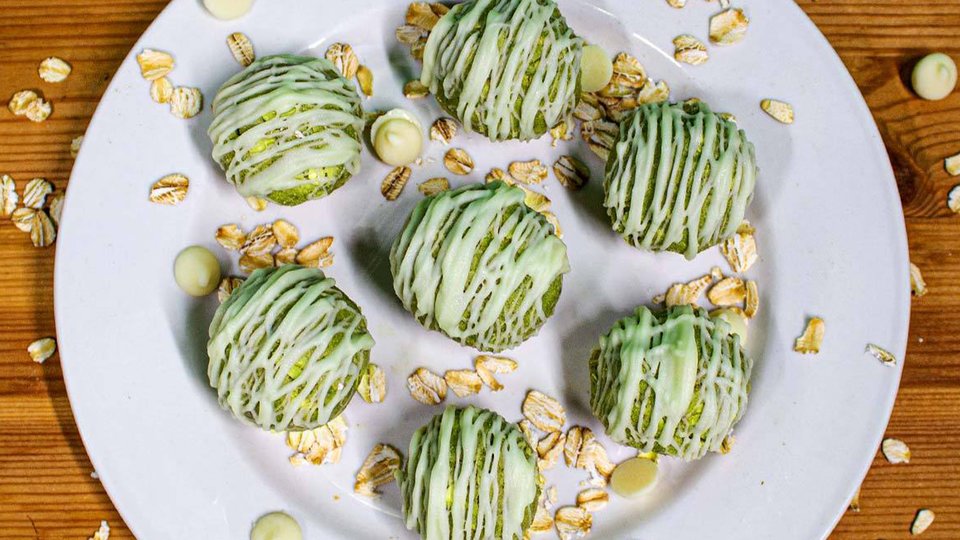 Looking to get healthy antioxidants on the go? Try these matcha bites for a quick anytime snack to keep you focused and energized!
Ingredients
4 tbsp natural almond butter
½ cup rolled oats
1 tbsp chia seeds
1 tbsp honey
2 tbsp coconut oil
1 pinch sea salt
2 oz white chocolate
Directions
In a bowl, thoroughly mix together all the ingredients except the white chocolate into a dough-like consistency.
Scoop out a small amount of the mixture and form it into a ball with your hands. Repeat until you have used up the dough.
Place the dough balls on a baking sheet lined with parchment paper and freeze for about half an hour.
If you're adding the white chocolate drizzle, melt the white chocolate in a double boiler. Remove the balls from the freezer and drizzle with melted white chocolate. Put them back into the freezer until the white chocolate has hardened.
Transfer the balls to an airtight container and store in the fridge for up to 1 week or in the freezer for up to 3 weeks. Take them out of the freezer 10-15 minutes before eating.