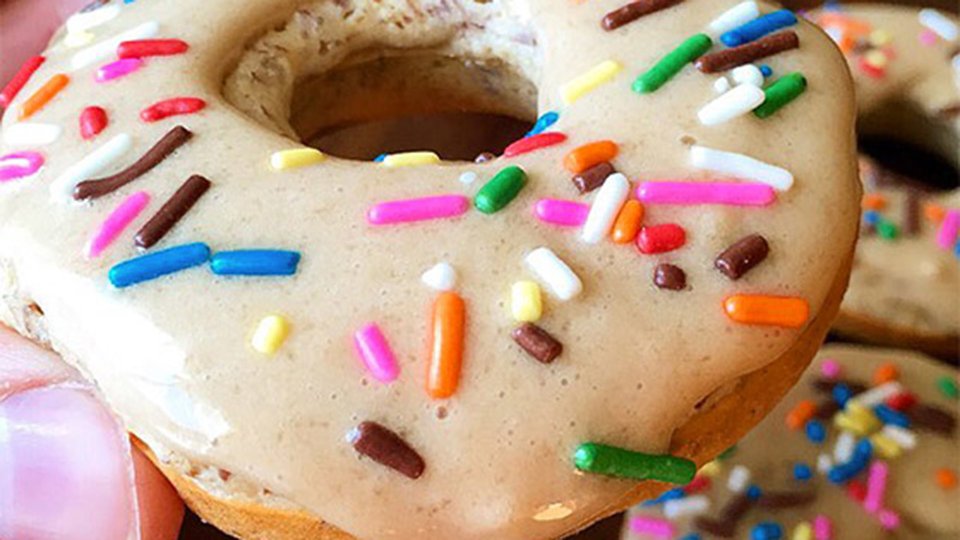 Even though my first love is pizza, I've always had a sweet spot for maple donuts. Sadly, with all that trans fat and processed sugar, they might just be the worst thing for you. This probably explains why I feel like total crap after eating just half of one.
Ingredients
⅓ cup oat flour
1 scoop(s) vanilla protein powder
¼ cup powdered Stevia
2 tbsp ground flaxseed
1 tbsp coconut flour
½ tsp baking powder
¼ cup unsweetened almond milk
¼ cup egg whites
¼ cup unsweetened applesauce
1 tsp coconut extract
1 tsp butter extract
Frosting Ingredients
¼ cup sugar-free maple syrup
1 scoop(s) vanilla protein powder
¼ packet gelatin powder
Directions
Preheat oven to 350 F.
Whisk together dry ingredients.
Mix in wet ingredients until thoroughly combined.
Lightly spray donut pan with cooking spray and distribute between 5 wells.
Bake for 10 minutes, then dump out of donut pan on to a plate to cool.
Meanwhile, mix up frosting and place in fridge to thicken.
When ready, glaze your donuts, add sprinkles, and enjoy!