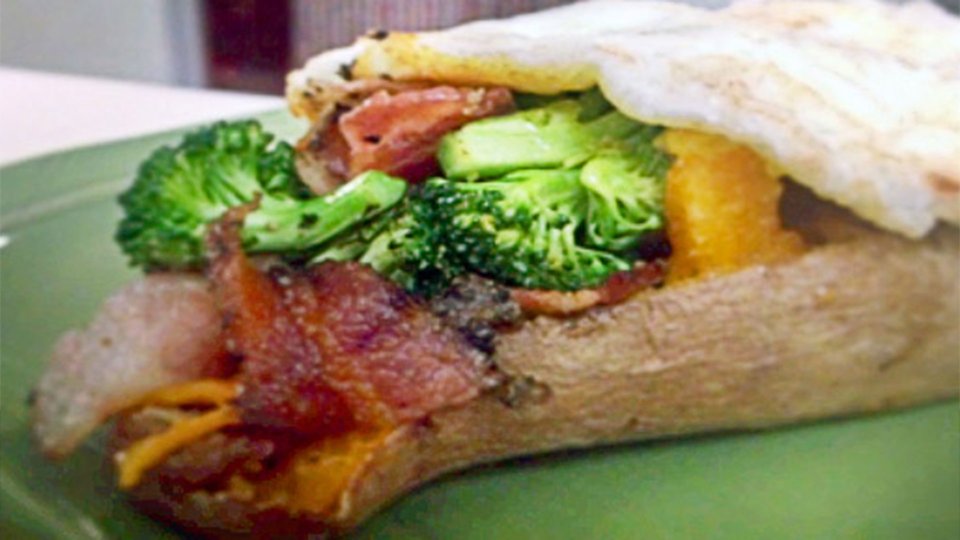 Tired of your egg whites and oatmeal? Go all-American with a couple strips of bacon and a fried egg. The sweet potato adds a unique flavor and provides vitamin A, C, manganese, fiber, potassium, B vitamins, and iron.
Ingredients
1 whole sweet potato
2 slice bacon
½ cup broccoli
2 tbsp olive oil
1 egg
¼ tsp salt
¼ tsp, ground black pepper
Directions
Preheat oven to 400 degrees.
Bake potato for 1 hour or until soft then let stand for 10 minutes.
Heat 1 tbsp olive oil in a skillet over medium heat. Add broccoli and cook for 3 minutes or until broccoli appears bright green and tender. Separate broccoli.
Add 1 tbsp olive oil to pan and fry egg to personal preference.
Slice the top of each potato lengthwise and scoop out the insides with a spoon into a bowl, leaving a 1/4-inch thick shell. Mash the sweet potato and mix in the cooked broccoli, bacon, salt and pepper.
Scoop the sweet potato mixture back into the potato shell and top with the fried egg.