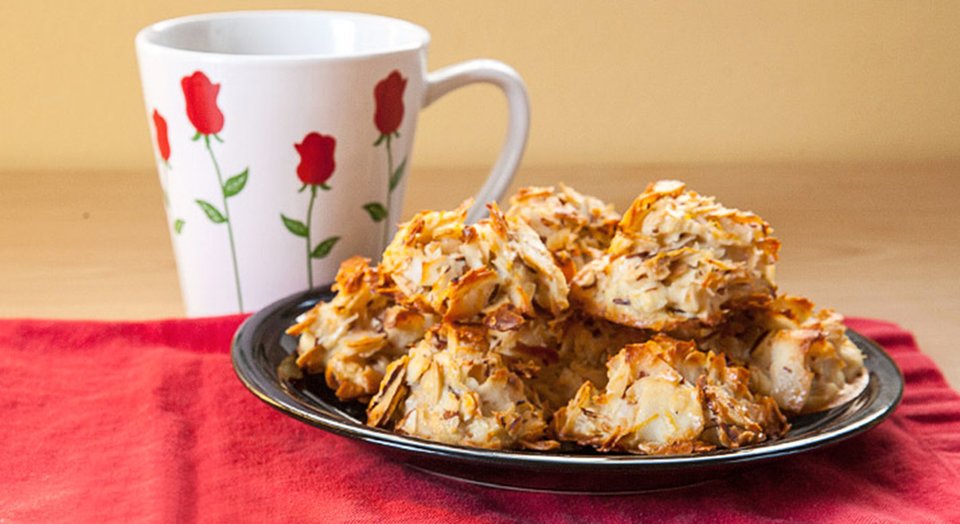 In your grandmother's kitchen, haystack cookies are probably a staple. Today, I'm going to give you a healthier option so you can enjoy this classic favorite with an extra protein bonus!
Ingredients
1 cup coconut, flaked
1 cup powdered Stevia
1 scoop vanilla protein powder
¼ tsp salt
1 cup almonds, slivered
5 large egg whites
2 tbsp lemon zest
Directions
Preheat oven to 325 degrees and spray 2 large cookie sheets with non-stick spray, set aside.
Toast the coconut in a dry saute pan over medium heat, stirring often.
The finished product should look lightly brown with half of the coconut still white.
Transfer the toasted coconut to a large bowl.
Next, lightly toast the sliced almonds over medium/low heat. The almonds should be toasted just enough to enhance the flavor, but not add much color.
While the almonds toast, add the sweetener, protein powder, and salt to the coconut and stir until evenly distributed.
Remove the almonds from the heat to let cool. Zest lemons.
Stir in almonds, lemon zest, and finally egg whites. Mix until everything is incorporated.
Use a tablespoon to drop the cookies onto the cookie sheet.
Bake for 20 to 25 minutes.