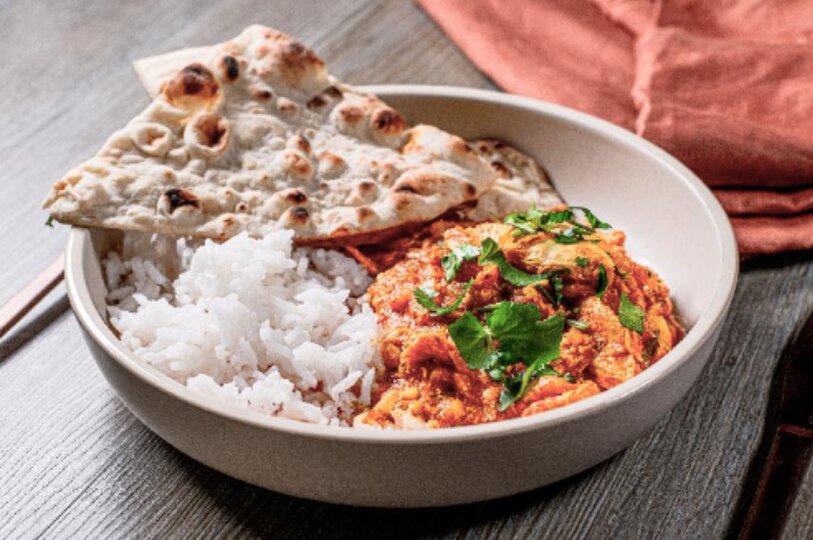 Need a new dinner idea? You have got to check out this extremely delicious Indian Chicken Curry.
Ingredients
½ cup water
2½ cup white Rice
1 tbsp garlic, minced
2 tsp ginger root
1 tbsp curry powder
1 tsp, whole cumin seed
1 tsp turmeric
1 tsp cayenne pepper
1 tsp garam Masala
3 lb chicken breast, boneless and skinless
salt and pepper to taste
3½ tbsp ghee clarified butter
2 tbsp cilantro, chopped
1 medium (2-1/2" dia) onions
1 tbsp lemon juice
1 tsp coriander
15 oz tomatoes, crushed, canned
1 cup yogurt plain whole milk
Directions
Start by chopping onion, garlic and ginger finely.
Heat oil in a pot over medium-high heat, and add diced chicken breasts - cooking until golden brown on both sides, flipping once. Season with salt, and set aside. The chicken does not need to be fully cooked here, just browned all over.
After removing the chicken, add onions, garlic, and ginger - cooking for 3 minutes until tender and translucent. Stir in spices, and 1 tbsp of water. Stir together, then add tomatoes, yogurt, 1/2 cup of water, and chopped cilantro. Bring to a boil, and add chicken back in.
Cover and simmer chicken until cooked through, about 15 minutes. To serve, squeeze some fresh lemon juice on top, and serve with rice.