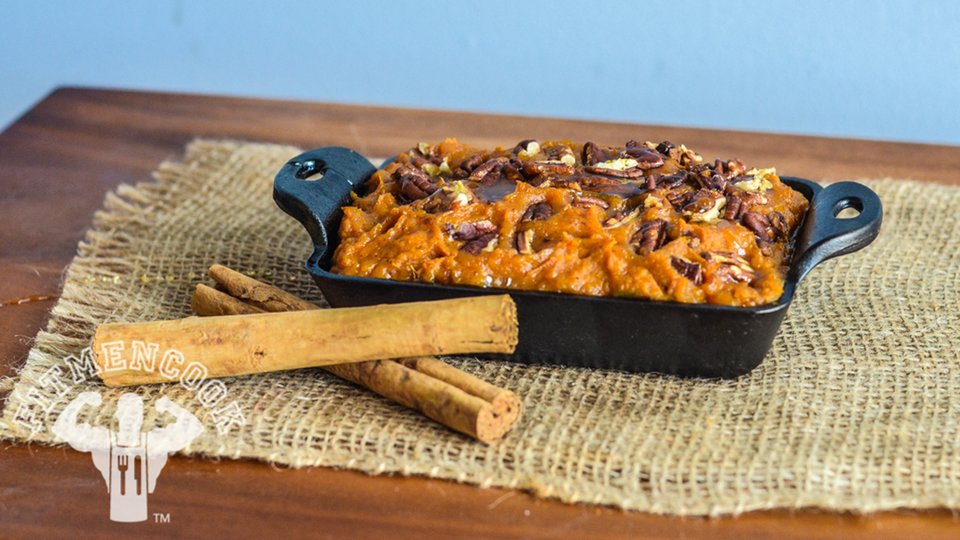 Being from Texas, nothing makes me look forward to Thanksgiving more than sweet potato casserole! Sweet potatoes are one of my staples throughout a normal week, but I never tire of them. Sweet potatoes are a great complex carb source and provide fuel for workouts.
Ingredients
3 whole sweet potato
1 whole egg
⅓ cup almond milk
2 tbsp honey
1 tbsp cinnamon
1 tbsp vanilla extract
½ tbsp extra virgin coconut oil
Directions
Set oven to 350 F.
Place the pecans on a baking sheet and place in the oven for 4-5 minutes. Immediately remove from the oven so not to burn.
To save time peeling potatoes, steam sweet potatoes until they soft. When they are finished, let them cool a bit and then easily remove the skin and strain the sweet potatoes.
In a bowl, begin to mash the sweet potatoes with a masher, fork or hand blender.
Add egg, almond milk, coconut oil, 1 tbsp honey, cinnamon, vanilla extract and half the pecans. Mix with a hand blender until smooth. For best results, beat the egg before adding to the sweet potato.
Pour the mixture in a baking dish. Sprinkle the remaining pecans on top and then drizzle the rest of the honey over the pecans.
Bake in the oven for 30-35 minutes.