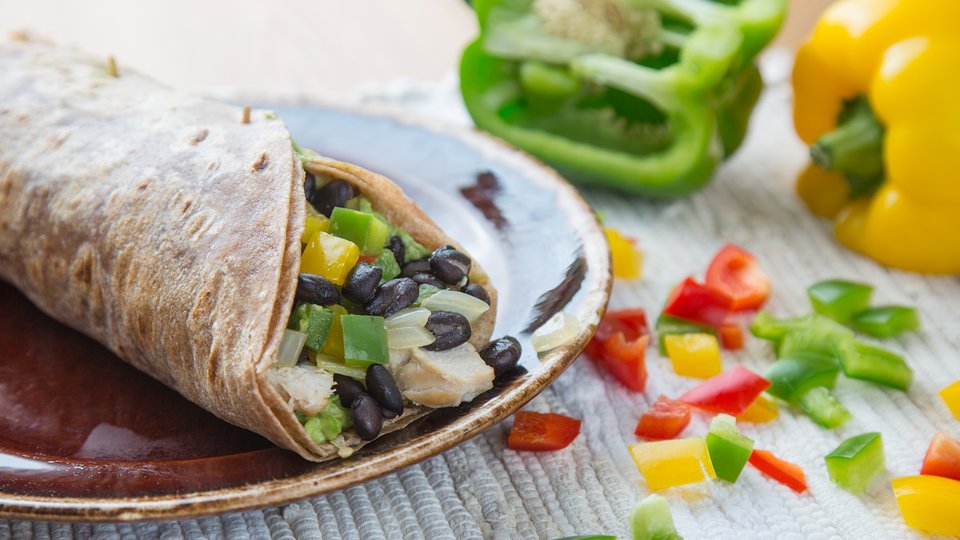 Chipotle will want your recipe after you show off this easy-to-make, double-stuffed, cheesy burrito to your friends on social media. The secret is in the cheese, so don't skimp in that department!
Ingredients
½ whole diced red bell pepper
¼ sliced white onion
2 whole whole wheat soft tortillas
½ cup reduced fat cheddar cheese, shredded
½ cup, pureed avocado
5 oz chicken breast
½ cup black beans, drained and rinsed
Directions
Spray large sauce pan with non-fat cooking spray. Add diced peppers and onions and cook over medium heat for about 6 minutes, until peppers are soft and onions translucent.
Coat a second saucepan with non-fat cooking spray. Turn heat to medium and add one tortilla to the pan. Sprinkle the shredded cheese evenly over the tortilla.
Place the second tortilla over the cheese and cook until cheese begins to melt. Flip and cook until the second tortilla browns.
Peel and pit avocado. Mash with a fork.
Place the cheese-filled tortillas on a plate and spread mashed avocado on top.
Top avocado mash with vegetables, chicken, and beans.
Roll tortillas into a burrito, top with any optional ingredients, and enjoy!