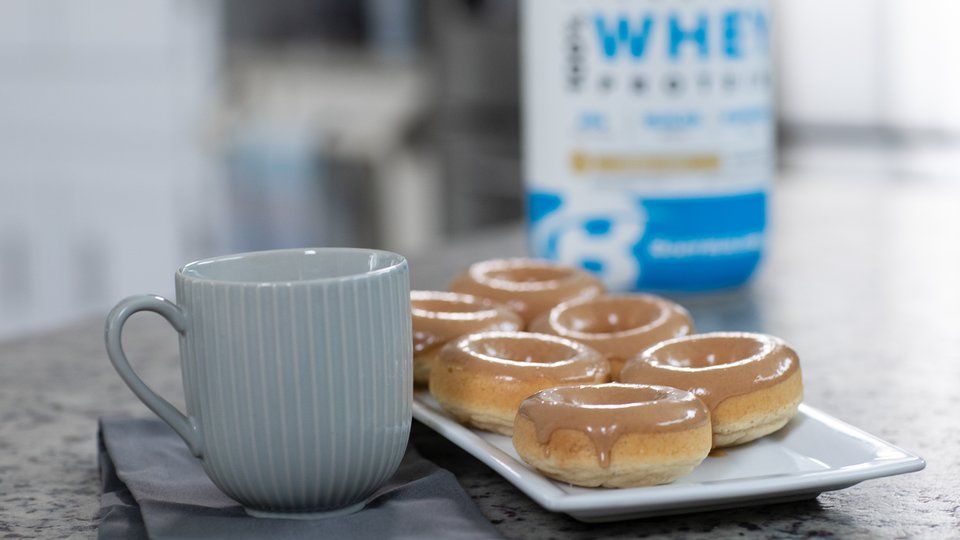 The first Friday of June is National Donut Day, established to honor female volunteers who served donuts to soldiers during WWI. What better way to celebrate than by whipping up a batch of these healthy and delicious homemade protein donuts?
Ingredients
1 tsp apple cider vinegar
⅔ cup milk (2% fat)
1 tsp vanilla extract
3 tbsp coconut oil
1 cup all-purpose flour
1½ tsp baking powder
1 scoop signature Oatmeal Cookie Whey Protein Powder
1¼ tsp table salt
Glaze Ingredients
¼ cup natural peanut butter
1 tbsp coconut oil
Directions
Preheat oven to 350 degrees F. Grease the donut pan. If you don't have a donut pan, use a mini muffin tin for donut holes.
Combine vinegar, milk, vanilla, and oil in a small bowl and mix well. In a separate bowl, combine flour, baking powder, whey powder, and salt. Whisk very well to combine.
Pour wet ingredients into dry and mix just until batter comes together. Immediately pour batter into the donut pan. Bake 15 minutes or until done, then remove from oven and allow to cool.
Make a simple glaze by microwaving peanut butter and coconut oil for 30-second intervals, mixing until smooth. Dip cooled donuts into glaze and place on a wire rack to set.