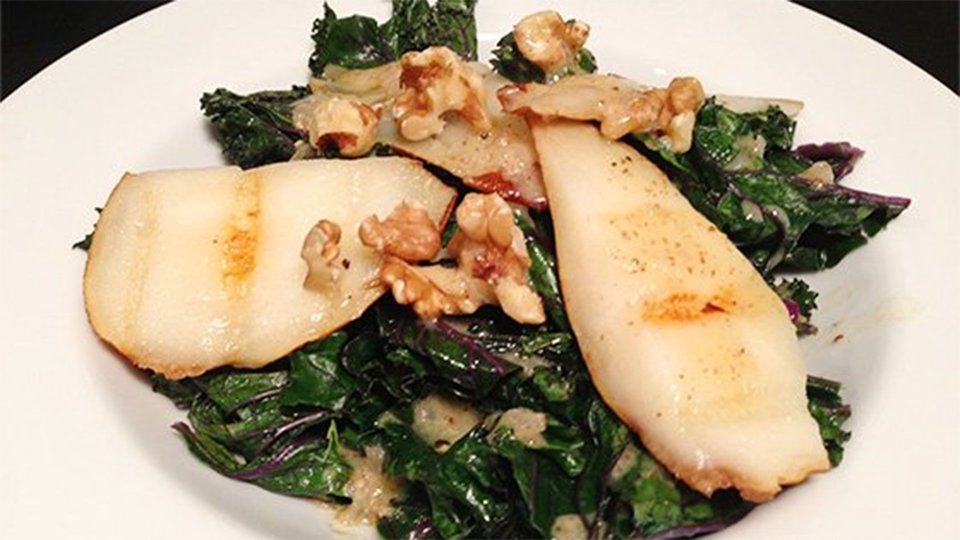 Kale is a great source of vitamins A, C, and K. It also offers a boatload of minerals your body needs to stay healthy. Add some healthy fats from the walnuts and some natural carbs from the pear and you're looking at a nutritional profile worth singing about. To make this a more complete meal, add some lean protein.
Ingredients
6 cup 1" pieces, loosely packed kale
1 pear, sliced
2 tbsp walnuts, chopped
1 tbsp olive oil
½ tbsp lemon juice
½ tbsp apple cider vinegar
1 tsp dijon mustard
½ tsp powdered Stevia
salt and pepper to taste
Directions
Ignite grill.
Massage kale leaves with 1/2 tbsp olive oil until lightly tender.
On grill, evenly spread kale leaves and pear slices.
Cook 2-3 minutes each side.
In a small bowl, whisk together 1/2 tbsp olive oil, lemon juice, apple cider vinegar, mustard, Stevia, salt, and pepper.
Top kale with pear slices, 1 tbsp chopped walnuts, and drizzle with dressing on plate.