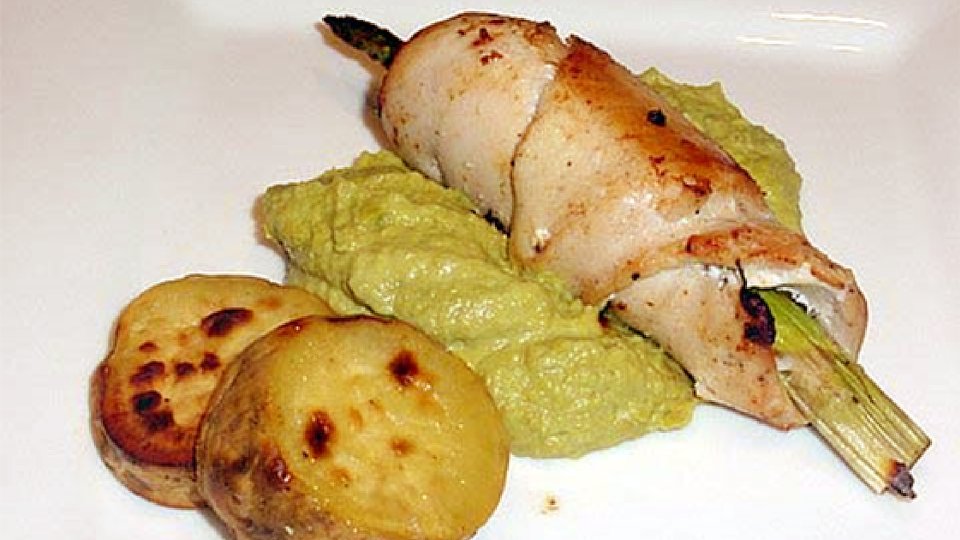 Not only does this meal look and taste great, but it is also perfect for the bodybuilder; it is high in protein and low in fat. Enjoy!
Ingredients
1 piece chicken breast
2 whole asparagus spears
2 strip turkey bacon
1 tsp dijon mustard
1 tbsp honey
Directions
Once the chicken breast is washed, trim the fat. Cut chicken into 2-4 thin slices, depending on how thick you would like your roll to be. Alejandro usually cuts the chicken breast into three slices. Put chicken slices in the container, add the salt and pepper, mustard and honey. Let it marinate for 25 minutes.
Give the asparagus a quick wash. Snap off tough ends of asparagus and remove scales with vegetable peeler. Place one slice of turkey bacon on each slice of chicken breast. Place one asparagus stick on the top and start rolling it (see photo).
Once the roll is ready, use a couple of wooden picks to secure the turkey bacon—ensure the picks are placed in such a way the chicken meat maintains its shape around the roll. You can grill rolls than for seven minutes on the electric grill at 375 degrees, or bake them for 25 minutes at 375 degrees.
You can store the rolls in the fridge and every time you need protein, just eat a couple (cold or hot). These are perfect for bodybuilders on the go, who enjoy classy food. Alejandro usually makes these to store in the fridge, and eat as snacks wherever necessary.