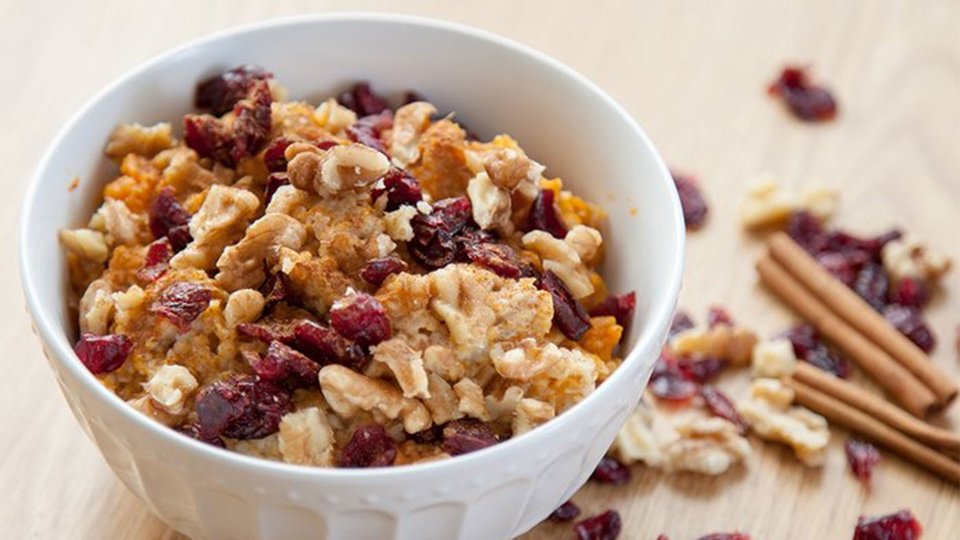 This autumn oatmeal is the perfect start to any day, particularly a day filled with meetings and deadlines. The oats and fibrous squash provide long-lasting energy levels to help you tackle whatever lies ahead. Plus, the hint of sweetness from the squash, not to mention the natural sweetness from the cranberries and syrup, will make you feel as if you just started your day with dessert—one that's good for you!
Ingredients
1 cup steel-cut oats
½ cup nonfat milk
¾ cup, pureed winter squash
⅓ cup dried cranberries
1 tsp cinnamon
½ tsp nutmeg
⅓ cup walnuts, chopped
8 tsp sugar-free maple syrup
Directions
Place the oats, a pinch of salt, and 3 cups water in a medium-sized saucepan. Bring it to a slight boil, then remove it from the heat and let it sit covered in the refrigerator overnight.
In the morning, add milk, squash puree, cranberries, cinnamon, and nutmeg to the pan. Heat over medium-low, stirring often, until the mixture is warmed through. Serve in bowls and top with walnuts and maple syrup. Reheat leftovers in a pan with a few splashes of additional milk.