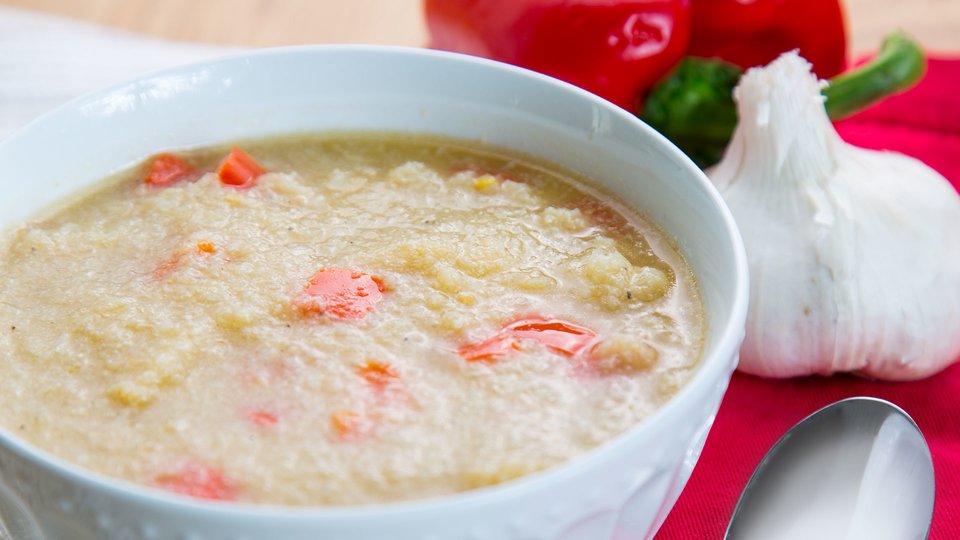 This cauliflower soup is delicious and loaded with nutrition. Prepare a big batch and serve before your main course. People who start their meal with soups tend to consume fewer calories overall, which might help you shed a few pounds.
Ingredients
1 clove garlic, chopped
2 tbsp olive oil
1 head cauliflower, chopped
1 red pepper, cut into strips
4 cup low-sodium chicken broth
¼ cup low-fat Parmesan cheese
1 salt and pepper to taste
¼ tsp paprika
Directions
Heat olive oil in a skillet over medium heat.
Add the garlic and red pepper and cook for 2-3 minutes or until garlic is slightly golden. Remove red pepper pieces, set aside, and dice when cool.
Add the cauliflower, chicken broth, salt, pepper, and paprika to the skillet. Bring to a boil, then reduce heat and simmer for 15 minutes, stirring occasionally.
Allow mixture to cool, then puree in a blender until smooth. Note: Scalding-hot liquids can expand and explode in a blender. Always cool liquid until it's comfortable to the touch before blending it.
Return to skillet and add diced red pepper. Stir in Parmesan cheese and cook for 2-3 minutes. Serve immediately.