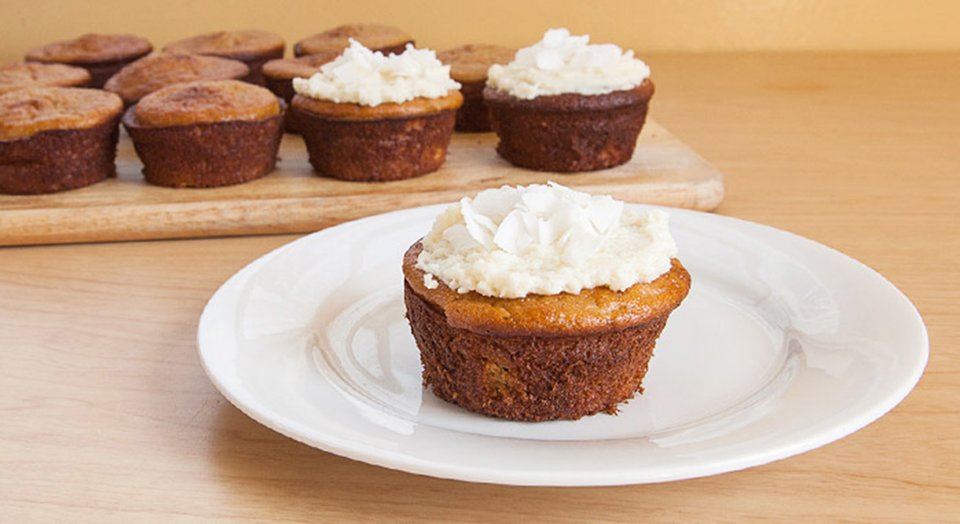 In this recipe, you can substitute Stevia for the brown sugar, but I like the molasses flavor of the brown sugar. Look for Greek yogurt with the lowest amount of sugar. I used imitation coconut, but if you just want to use coconut milk, that's okay. It has plenty of flavor! If you are watching your salt content, you can omit it from the recipe.
Ingredients
1½ cup oat flour
2 scoop vanilla protein powder
1 tsp baking soda
1 cup brown sugar
½ cup unsweetened applesauce
½ cup nonfat plain Greek yogurt
2 large egg whites
1 cup coconut milk
1 tsp coconut extract
4 tbsp fat-free cream cheese
¼ cup coconut oil
6 tbsp sugar
½ tsp salt
Directions
Preheat oven to 375 degrees.
Spray a muffin tin with non-stick spray and set aside.
In a large bowl, combine the oat flour, protein powder, baking soda and salt.
Whisk until well combined and set aside.
In a second bowl, combine brown sugar, applesauce, yogurt, egg whites, coconut milk and coconut extract, stirring until incorporated.
Add wet ingredients to the dry ingredients and mix well.
Use a 1/4 cup as a scoop to fill muffin tins.
Use a 1/4 cup as a scoop to fill muffin tins.