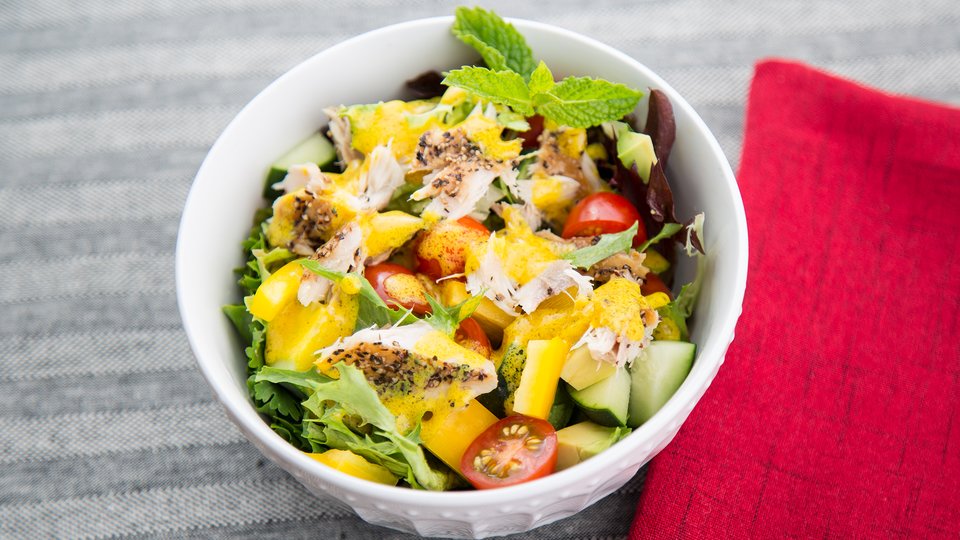 Turn your market basket into this salad full of fresh flavors and inspiring textures. The fact that it doesn't requite cooking will keep your kitchen cool when summer temperatures begin to soar. If you're looking for a few carbs to help power your workouts, toss some roasted baby potatoes into the salad.
Ingredients
4 cup salad greens
1 yellow bell pepper
1 cup cucumber, chopped
1 cup cherry tomatoes
½ fruit, without skin and seed avocado
1 tbsp scallions, sliced
½ pound smoked mackerel
2 tbsp almonds, slivered
1 tbsp, drained capers, canned
2 tbsp extra virgin olive oil
2 tbsp lemon juice
2 tsp dijon mustard
¼ tsp table salt
¼ tsp, ground black pepper
¼ cup mint leaves, chopped
Directions
Divide salad greens, bell pepper, cucumber, tomatoes, avocado, and scallion among serving plates. Top with chunks of mackerel flesh and sprinkle with almonds and capers.
In a small bowl, whisk together olive oil, lemon juice, mustard, salt, and black pepper. Drizzle dressing over salad and garnish with mint.