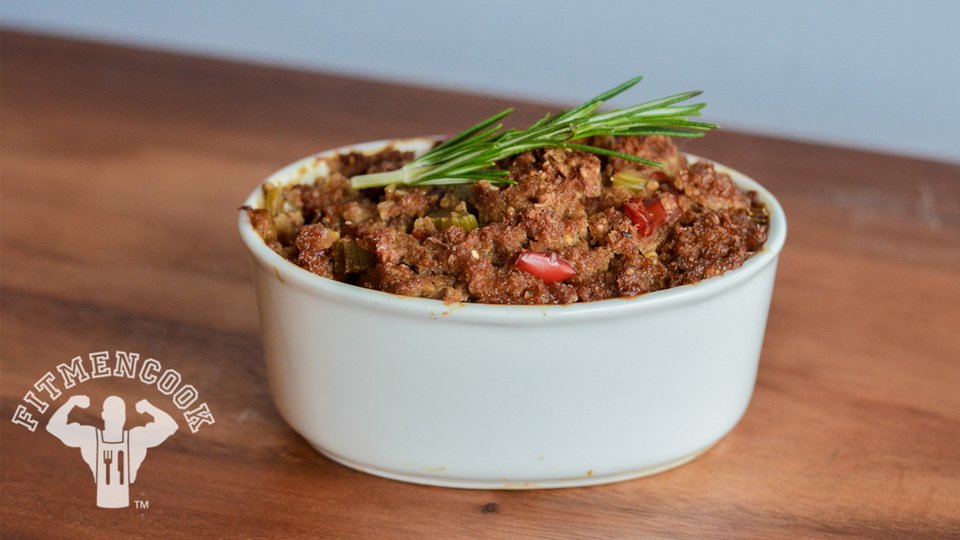 Nothing rounds out a nice Thanksgiving feast like stuffing. There are several ways to make it; the best thing about this dish is that it can be personalized. Put your own spin on things to keep guests guessing at the ingredients and hankering for your recipe.
Ingredients
8 slice ezekiel bread
2 cup low-sodium chicken broth
⅔ shallot shallots
1 tbsp garlic, minced
2 whole stalk celery
1 medium (approx 2-3/4" long, 2-1/2 dia.) red bell pepper, sliced
1 tsp fresh rosemary
1 dash sea salt
Directions
Set oven to 375 F.
Lightly toast pieces of Ezekiel bread and then cut into small cubes. Place in a large bowl or baking dish.
Place a nonstick skillet on medium heat and lightly spray with olive oil.
Add garlic and shallots to the skillet and cook until brown.
Cut celery and bell pepper into small pieces and add to the skillet.
Reduce the heat of the skillet to low medium and pour 1 cup of chicken broth to the mixture and stir.
Add seasonings and your rosemary twig to the skillet. Cover and let it simmer for about 10 minutes.
Remove the rosemary twig and then pour the broth and veggies over the bread cubes. Stir with a large spoon or spatula. Add remaining cup of chicken broth and continue to stir until the bread absorbs the broth. If your stuffing is a little dry after adding the chicken broth, add a few tablespoons of chicken broth until it is moist.
Bake in the oven for about 20 minutes. Remove and then stir with a spoon again. If you see the stuffing is a little dry, add a few more tablespoons of chicken broth and place back in the oven and bake for another 15-20 minutes.