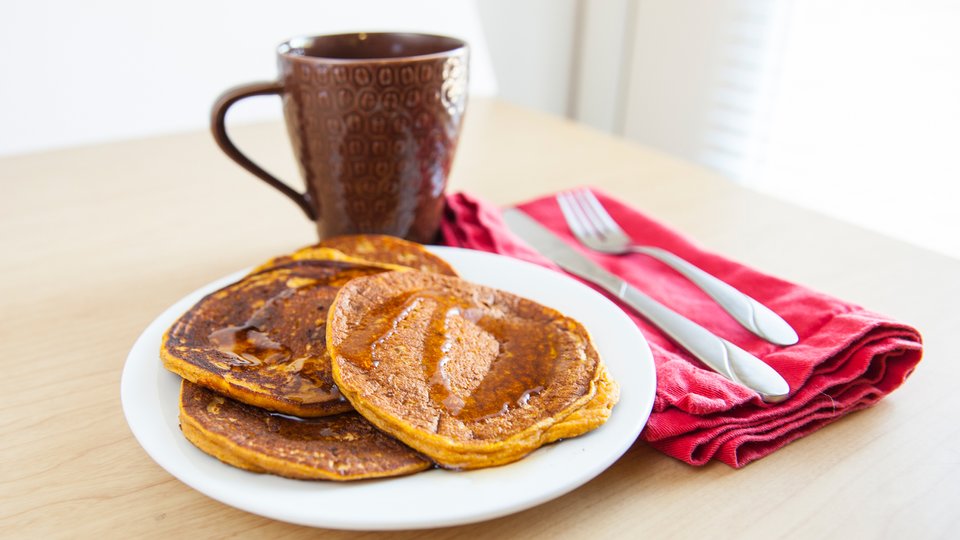 This is your recipe if you're looking for a gluten-free alternative to more traditional pancakes. It's loaded with healthy fats, slow-digesting carbohydrates, and fiber. All you need to do is add a protein source, and you'll be set.
Ingredients
½ cup sweet potato, mashed
2 whole egg
1 tbsp coconut flour
1 tsp cinnamon
¼ tsp ground cloves
¼ tsp baking soda
2 tsp powdered Stevia
1 tbsp coconut oil
2 tbsp sugar-free maple syrup
Directions
Combine the sweet potato with the eggs until fully mixed. Next, stir in the coconut flour, cinnamon, cloves, and stevia/brown sugar.
Once combined, heat a griddle to medium heat and melt the coconut oil on top.
Pour batter onto the griddle to make two large pancakes. Cook for 3-4 minutes on one side until edges are bubbling, and then flip and cook for 2-3 minutes more.
Serve topped with sugar-free maple syrup.