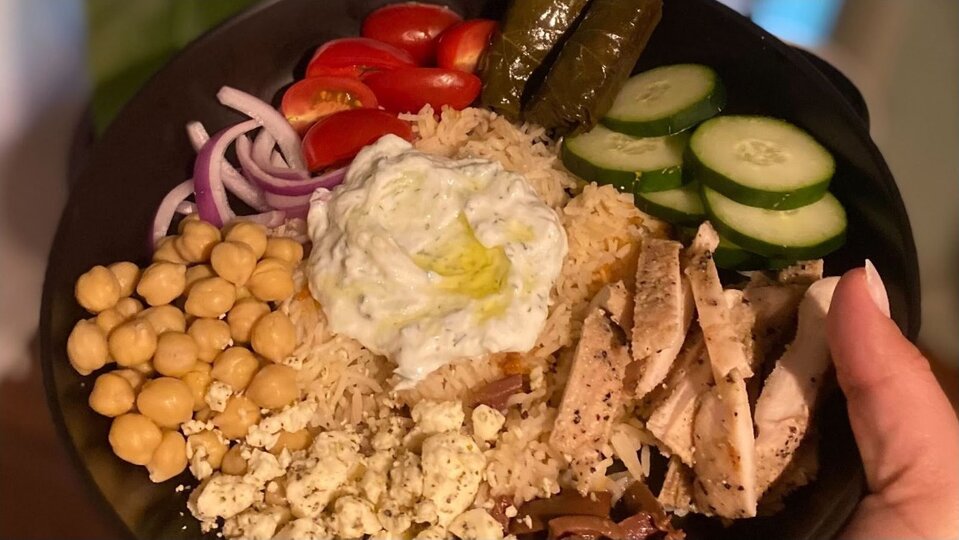 Dressed-up rice plus fresh veggies make the perfect summer meal. In the heat of the summer, these Mediterranean bowls are the perfect mix of hot dinner with refreshing ingredients. They also are a fun little boost to morale when you can pluck some ingredients from a home garden! This is one of my go-to meals, and I love pulling it together when I'm out of dinner ideas - it never disappoints. Give it a try and let me know what you'd do to change or tweak it to your taste!
For Chicken Ingredients
2 piece chicken breast, boneless and skinless
1 tbsp olive oil
1 tsp table salt
1 tsp, leaves oregano
¾ tsp onion powder
½ tsp, ground black pepper
½ tsp dried dill
½ tsp, leaves thyme
For Rice Ingredients
1 cup white Rice
1¼ cup low-sodium chicken broth
2 tbsp lemon juice
½ tsp table salt
¼ tsp, ground black pepper
¼ cup parsley, chopped
Remaining Ingredients
1 cup plain Greek yogurt
1 tbsp lemon juice
1 tbsp dill, chopped
1 clove garlic, minced
¼ tsp sea salt
½ tbsp extra virgin olive oil
½ cup, pared, chopped cucumber, peeled, finely chopped
1 cup slices cucumber, chopped
1 cup grape tomatoes
1 can drained chickpeas, canned
½ cup red onion, sliced
¼ cup kalamata olives (pitted)
¼ cup reduced-fat feta cheese
1 pita, small (4" dia) whole-Wheat Pita Bread
Directions
Coat chicken breasts in olive oil and season with salt, dried oregano, onion powder, black pepper, dried dill, and dried thyme. Heat olive oil in a pan over medium-high heat, then cook chicken for about 8 minutes, flipping back and forth until cooked through and internal temperature reaches 165 degrees Fahrenheit. Remove chicken from heat and set aside.
Prepare rice as you normally would, in pot or in rice cooker. Use broth instead of water, and cook until fluffy.
Remove cooked rice from heat and add remaining ingredients: lemon juice, fresh parsley, and salt and pepper to taste.
To prepare tzatziki sauce, combine Greek Yogurt, lemon juice, dill, garlic, sea salt, olive oil, and grated cucumber in a small mixing bowl.
Return to cooked chicken and slice or dice to preference for serving.
Time to plate! Scoop your rice onto a high-sided plate, add a serving of chicken on top. Add remaining ingredients to your taste: sliced cucumber, chickpeas, tomatoes, onion, kalamata olives, feta, and a scoop of tzatziki sauce. Serve with some pita bread or chips, if desired.