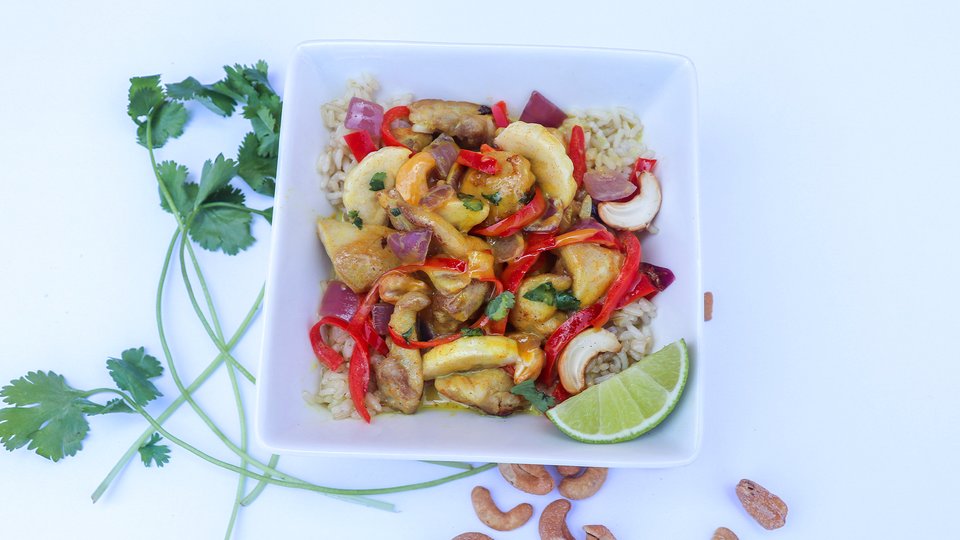 The next time you find yourself with a bunch of green bananas, don't wait for them all to ripen. Instead, make them the backbone of this stir-fry, which will put some spark into your weeknight dinner routine.
Ingredients
½ cup coconut milk
1 tsp lime zest
1 tbsp lime juice
2 tsp cornstarch
1 tsp sugar
2 tsp curry powder
¼ tsp cayenne powder
1 tbsp canola oil
1½ lb chicken thighs, slice (boneless and skinless)
1 red onion, diced
½ tsp table salt
2 large (8" to 8-7/8" long) banana
1 large (2-1/4 per pound, approx 3-3/4" long, 3" dia.) red bell pepper
3 clove garlic, chopped
1 tbsp ginger, minced
2 cup brown rice
⅓ cup cashews, crushed
⅓ cup cilantro
Directions
In a bowl, whisk together coconut milk, lime zest, lime juice, cornstarch, sugar, curry powder, and cayenne.
Heat a wok or large skillet over medium-high heat. Add oil and swirl to coat pan. Place chicken in pan and stir-fry until browned, about 4 minutes. Remove chicken from pan and set aside.
Add onion and salt to pan and cook for 2 minutes, stirring often.
Add banana and bell pepper to pan and cook for 1 more minute, stirring often. After a minute, add garlic and ginger and cook for another minute, stirring often.
Return chicken to pan. Add coconut sauce and heat until thickened.
Serve chicken banana stir-fry over rice. Sprinkle on cashews and cilantro.