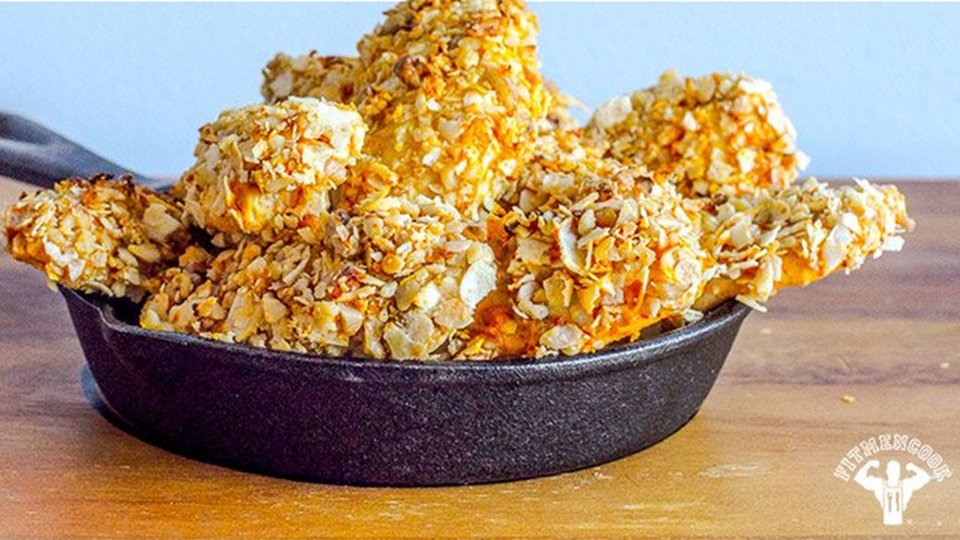 These faux-fried chicken fingers are bread crumb, egg, and oil-free, and they're 100-percent delicious. With a boost of omega-3s in the form of walnuts and added protein with a coating of low-carb, baked Quest chips, they pack a texture and flavor punch that will rival the once-tempting, grease-covered fast-food staple!
Ingredients
1 lb chicken breast
2 bag Quest Nutrition protein chips
⅓ cup walnuts, chopped
3 tbsp dijon mustard
1½ tbsp organic honey
1 tsp cayenne pepper
½ tsp cumin
Directions
Set oven to 400 F.
Crush bags of Quest protein chips to create crumbs. Add the crumbs to a sealable bag.
Add crushed walnuts to the sealable bag.
In a bowl, mix mustard, honey, and cayenne.
Slice the chicken breasts into tenders or fingers.
Rub the mustard mixture over the tenders and ensure they're all covered. Careful not to drench the tenders in sauce because this will cause the crust to be soggy.
Place the tenders in the sealable bag one by one. Gently shake the bag. Remove the tenders from the bag and place on a baking sheet or baking rack. The baking rack is preferred because it will leave all sides crispy.
Bake in the oven for 12-15 minutes. Be careful not to let the crust burn. Remember, the chicken should cook a bit faster since the pieces are smaller.