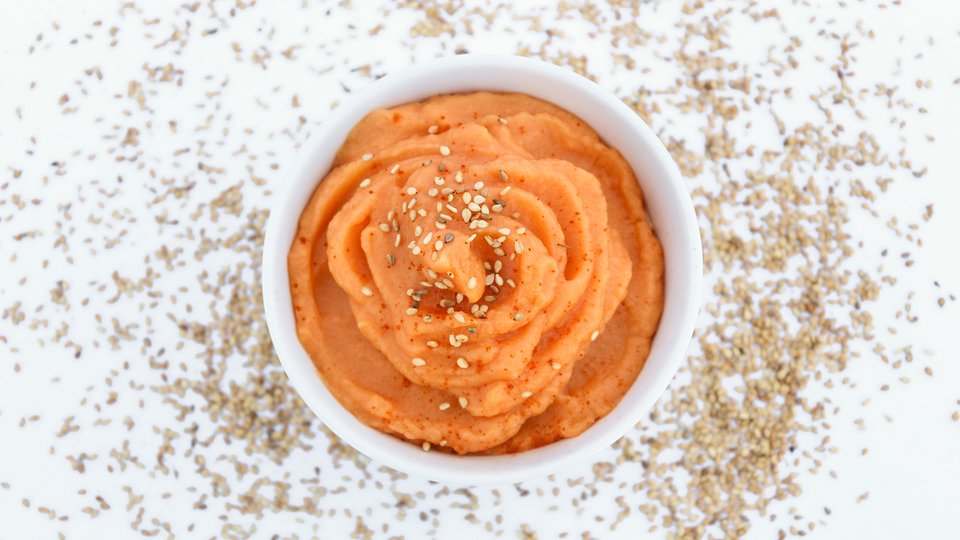 One spoonful of this stellar side dish, and you'll never want to settle for ho-hum traditional mashed potatoes again. The tahini infuses the mash with a nutty edge and contributes to the overall creamy texture. For the smoothest texture, break out the food processor, but a good old hand-held potato masher can create a more rustic presentation.
Ingredients
1½ lb sweet potato, cut into cubes
2 oz tahini paste
1 tbsp honey
1 tsp orange zest
1 tsp paprika
½ tsp table salt
2 tbsp sesame seeds
Directions
Place 1 inch of water in a saucepan and insert a steamer basket. Add sweet potato to steamer basket, bring water to a boil and steam covered for about 10 minutes until potato cubes are very tender. Alternatively, place sweet potatoes in a large saucepan and cover with water. Bring to a boil, reduce heat to medium-low and simmer until very tender. Drain.
Place sweet potato, tahini, honey, orange zest, paprika, and salt in a food processor and blend until smooth.
Serve sweet potato mash topped with sesame seeds.