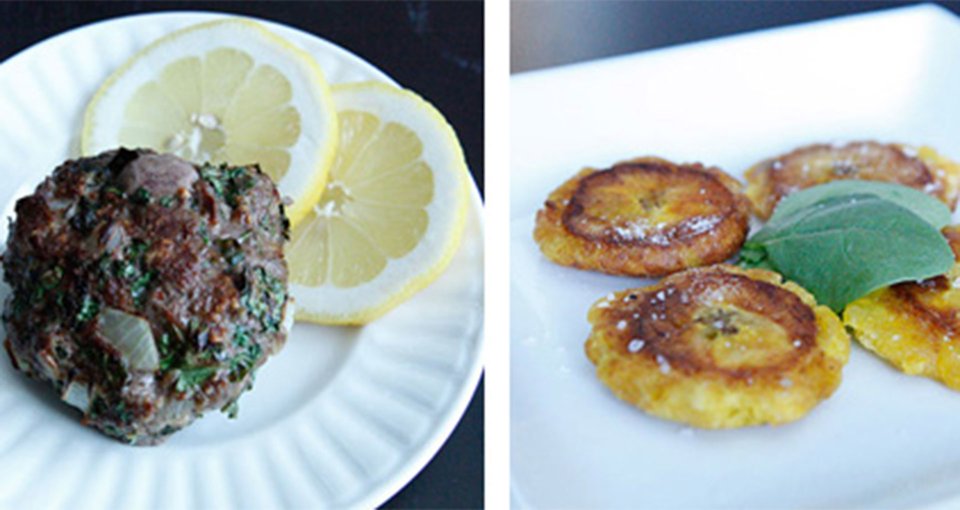 The Paleolithic diet is inspired by what our ancestors ate before the agricultural age. Along with being low-carb, the foods included on Paleo diet lists are usually natural and organic. The point of eating Paleo is to give your body the nutrients it needs without the processed additives and extra calories of a contemporary diet.
Ingredients
1¼ lb lean ground beef
2 whole egg
¼ onion, finely diced
1 clove garlic, minced
½ cup almond flour
3 tbsp cilantro
salt and pepper to taste
2 whole plantain
4 tbsp coconut oil
Directions
Turn oven to broil. Arrange rack so baking pan is close to heat.
Cover backing pan with aluminum foil and set aside.
Cover backing pan with aluminum foil and set aside.
Place patties on the center of the baking pan and broil for 6-8 minutes. Flip and broil for another 6-8 minutes.
When both sides are golden brown, remove from oven.
Cut plantain into thick slices (each slice about one inch long).
Place oil in skillet and turn stove to medium heat. Oil should cover skillet's surface and over 1/4 inch of plantains.
Place plantains in oil and fry for two minutes. Should be crisp, but not burnt at the bottom.
Turn plantains over and fry another two minutes.
Remove plantains from oil and use paper towel to remove excess oil.
Smash plantains with bottom of a glass and then sprinkle each with a little salt.
Fry both sides of plantains again for 1-2 minutes.
Remove from oil, pat dry with a paper towel and serve.