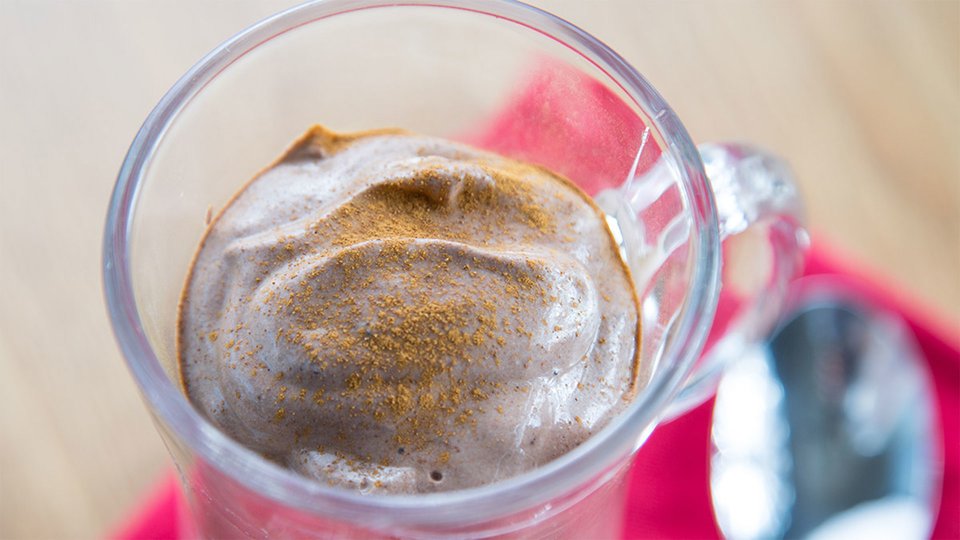 There's nothing like concluding a steamy summer day with a bowl of frosty ice cream. With frozen bananas for your creamy base and protein-packed Greek yogurt, this near-instant version won't blow up your physique, but it will deliver plenty of texture and taste! To freeze bananas for "ice cream" or smoothies, peel the fruit, slice it into chunks, and spread it out on a baking sheet. Place the bananas in the freezer until they're frozen solid, then transfer them to an airtight bag until you're ready to use them.
Ingredients
1 banana
1 cup nonfat plain Greek yogurt
¼ cup cocoa powder, unsweetened
2 tbsp honey
1 tsp vanilla extract
½ tsp cinnamon
Directions
Place the frozen bananas in a food processor. Process until the bananas are reduced to the size of small pebbles. At first, the bananas will bounce around and make a lot of noise before taking on a smooth consistency.
Scrape down the sides of the bowl, then add yogurt, cocoa powder, honey, vanilla and cinnamon. Blend until creamy.
Serve this immediately like soft-serve ice cream, or freeze it for later use. If frozen, the mixture will need to sit at room temperature for a few minutes to soften up.