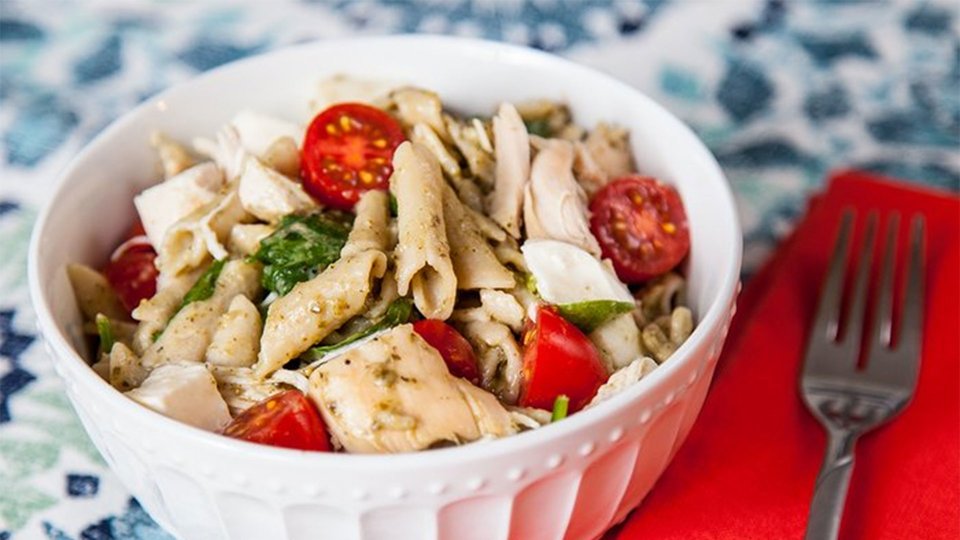 With a taste reminiscent of pizza, each forkful of this pasta salad will excite your taste buds and provide a bounty of nutritional goodness. Consider enjoying it after a hard workout to take advantage of the dynamic duo of protein and carbs. And since it can be served warm or chilled, it's also a good option for deskbound lunches in the days to come.
Ingredients
1¼ cup penne whole-grain pasta
3 tbsp pesto
2 cup chicken, rotisserie, chopped
2 cup cherry tomatoes
4 oz bocconcini
3 cup baby spinach
⅓ cup kalamata olives (pitted)
Directions
In a pot of salted boiling water, prepare the pasta according to package directions. Drain the pasta, reserving 1/3 cup of the cooking liquid, and return to the pan.
Toss the pasta with pesto, stirring in small amounts of the reserved cooking liquid as needed to help pesto cling to the pasta. Stir in the chicken, tomatoes, bocconcini, spinach, and olives.