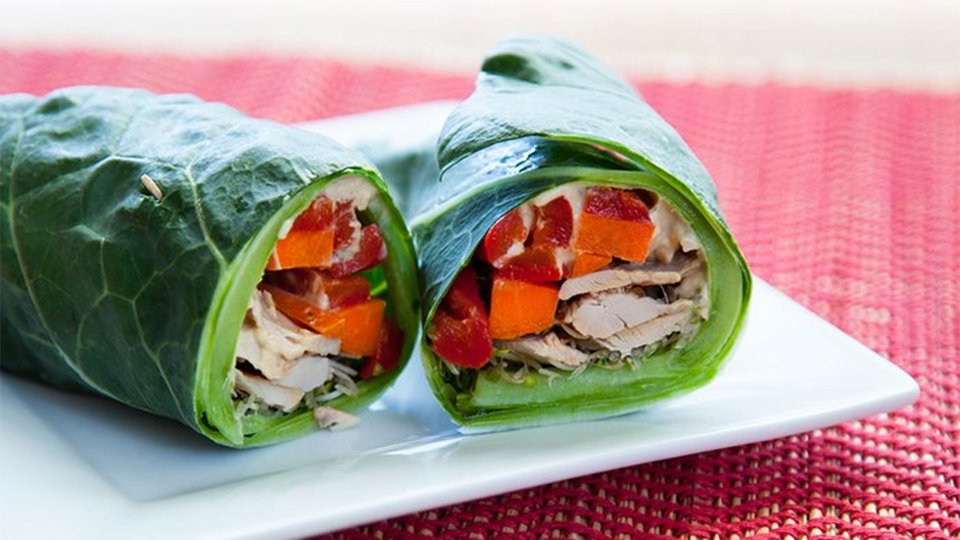 For a fresher approach to lunch wraps, try using collard greens instead of flour-based tortillas. They are sturdy enough to hold a pile of roasted chicken and other fillings, but come without the starchy carbs. To cut the bitter taste, smooth these wraps are smoothed over with your favorite hummus. This delightful lunch option delivers a wonderful array of appetizing, textural contrasts along with plenty of hunger-quelling dietary fiber. It can be prepared the night before if your harried mornings leave little time for meal prep.
Ingredients
8 leaf collard greens
1 cup hummus
2 cup chicken, rotisserie, chopped
2 medium carrots, sliced
1 cup, chopped roasted red pepper
1 cup broccoli sprouts
Directions
Cut off the firm, white stalks of the collards. With a sharp knife, fillet off the thickest parts of the remaining stalks that run down the backsides of the leaves. Place two collard leaves head to foot (stalks at opposite ends), and partially overlap the leaves.
Spread a quarter of the hummus down the center, and top it with a quarter of each of the chicken, carrot, roasted red pepper and microgreens. Tightly roll the leaves, beginning from the bottom, tucking in the sides as you go. Cut them in half on a bias to serve. If needed, insert toothpicks to keep the rolls intact. Repeat with the remaining ingredients.