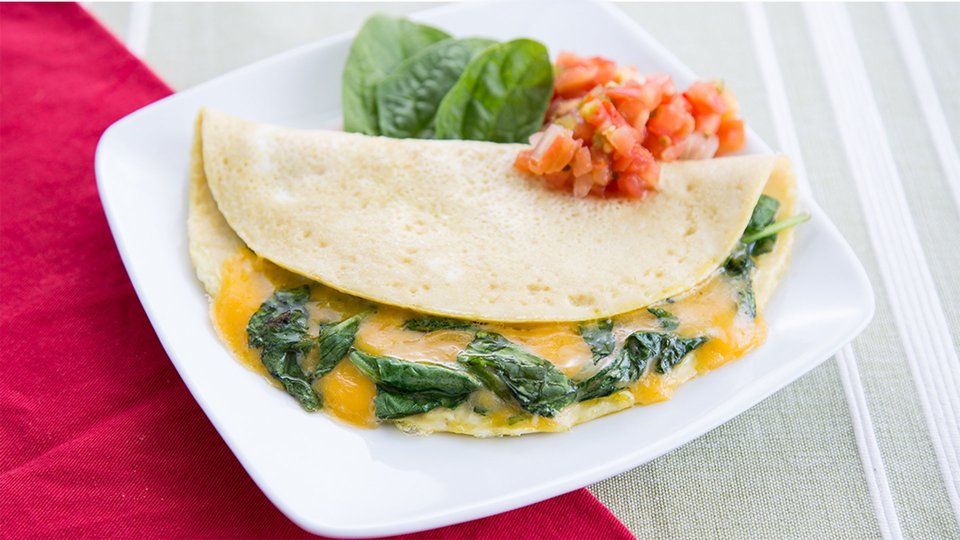 A classic way to start your day, the egg omelet provides the perfect opportunity to get your leafy greens in early. Most people don't typically have vegetables with their breakfast meal, but this spinach-infused omelet is a fantastic way to start your day off right. Feel free to add other diced vegetables to the spinach. Just sauté them lightly in a little olive oil prior to adding them along with the spinach to the center of the omelet.
Ingredients
1 whole egg
1 cup liquid egg whites
1 cup baby spinach
⅛ cup low-fat Parmesan cheese
1 salt and pepper to taste
1 pinch paprika
¼ cup salsa
Directions
Whisk together the egg, egg whites, and Parmesan cheese. Add salt and pepper to taste along with a pinch of paprika.
Spray a skillet with nonstick cooking spray. Pour egg mixture into skillet and cook for 1-2 minutes.
Add the spinach leaves and cheddar cheese to the center of the omelet. Using a spatula, fold the omelet in half.
Cook for another minute, then flip over. Cook on that side until eggs are fully done. Serve topped with salsa.