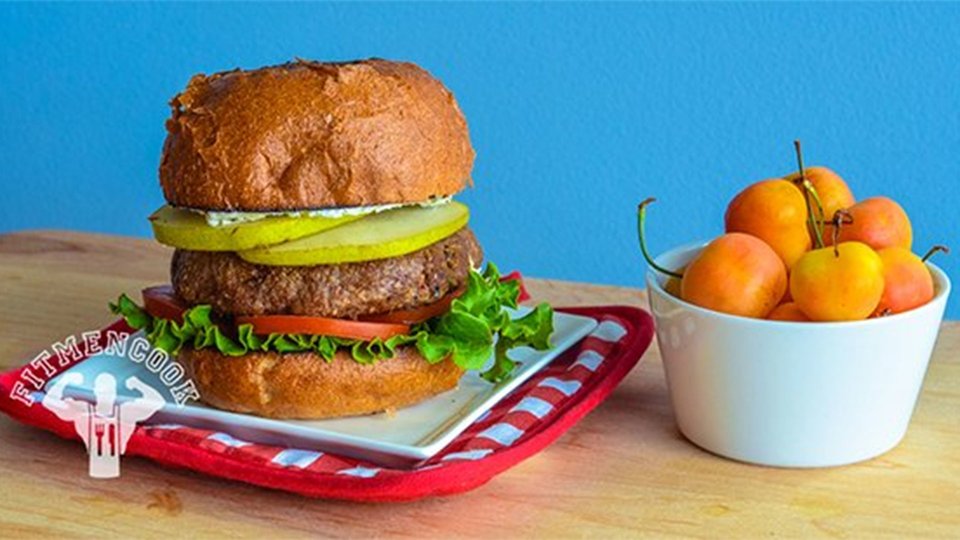 Wheat germ may be one of the most underused ingredients in healthy cooking, but it's an ingredient every alpha male should know about. Wheat germ is the most vitamin-rich part of the wheat kernel. It's loaded with fiber and vitamin B. It's also known to help improve muscular energy, reflexes, and the utilization of oxygen during exercise, making it a perfect addition to your daily diet. Plus, it creates a great crust for "frying" proteins and veggies.
Ingredients
6 oz ground buffalo
1 serving whole-wheat hamburger buns
1 tbsp goat cheese
2 slice pear, sliced
4 slice, thin/small tomatoes
2 leaf outer romaine lettuce
2 tbsp wheat germ
Directions
Seasonings (to taste): Paprika, Mrs. Dash Chipotle seasoning, sea salt, pepper, cayenne pepper.
Season the ground meat with Mrs. Dash Chipotle seasonings, sea salt, pepper, and cayenne pepper. Form a hamburger patty.
On a plate or in a bowl, add wheat germ. Coat the patty in the wheat germ flakes.
Set a skillet on medium heat and lightly spray with coconut oil. When the skillet gets hot, add the patty to the skillet and cook until desired readiness (remember to cook all sides).
Toast the wheat bun in a toaster oven and then assemble the burger. The pear is optional but recommended since it adds a faint sweet flavor that pairs nicely with the goat cheese and buffalo.