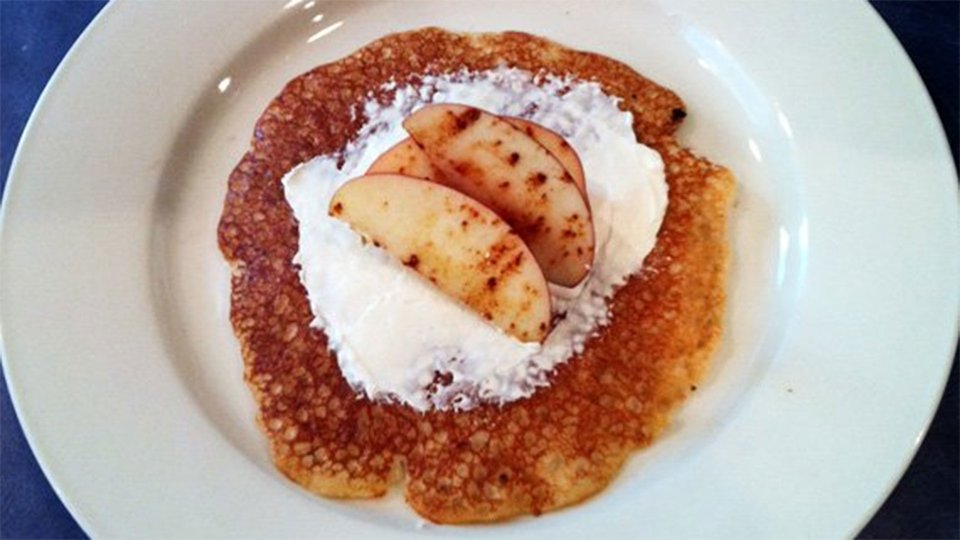 Need a gluten-free, non-flour pancake breakfast? Who doesn't, right? Well, this delicious flapjack recipe is so good you'll want to make seconds. Or thirds. Or ... forget it, just make these cakes.
Ingredients
½ cup brown rice
½ cup skim milk
½ cup(s) vanilla whey protein powder
½ cup rice flour
1 serving 1 packet splenda, brown sugar blend
2 tbsp unsweetened applesauce
1 tsp baking powder
½ tbsp olive oil
1 tsp cinnamon
2 tbsp fat-free cream cheese
1 medium apple, red
Directions
Preheat oven to 350 degrees F.
Slice apple and sprinkle with 1/2 tsp. of cinnamon and 2 tbsp. Splenda. Place on baking tray and bake for 4-5 minutes, or until tender.
Meanwhile, combine cooked rice, milk, rice flour, protein powder, 1/8 cup Splenda, applesauce, baking powder, oil, and 1/2 tsp. cinnamon in a bowl.
Heat a large, non-stick skillet over medium heat.
Pour batter onto skillet in small circles. Flip after 2-3 minutes or when edges begin to turn golden.
Cook another 1-2 minutes.
Once pancakes are done, smear with fat-free cream cheese and top with cooked sliced apples. Serve immediately.