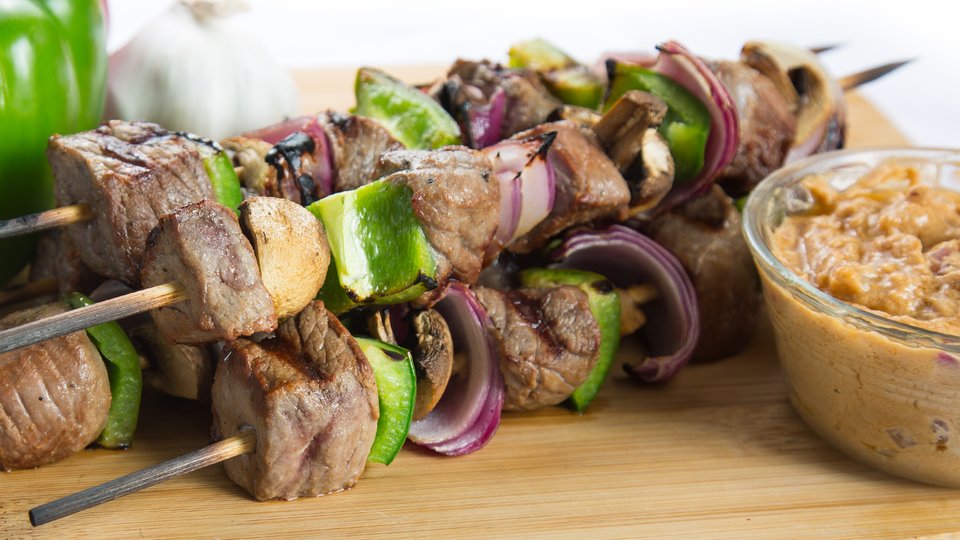 Peanut sauce comes from Indonesia and is the perfect complement to grilled meats. You'll need a supply of bamboo skewers (10-12) for this delicious dish.
Ingredients
1 oz bison steak, cut into cubes
½ red onion, sliced
1 whole green pepper, cut into strips
12 whole mushroom
2 tbsp lime juice
1 tbsp olive oil
1 tbsp lemongrass, finely chopped
1 tbsp soy sauce
Peanut Sauce Ingredients
½ cup onion, finely chopped
1 tsp vegetable oil
1 tsp garlic, minced
¼ cup light coconut milk
2 tbsp natural peanut butter
½ tbsp low-sugar ketchup
½ tbsp lime juice
½ tsp powdered Stevia
Directions
1. Combine the lime juice, olive oil, lemongrass, and soy sauce in a bowl.
2. Place bison strips in mixture, place in refrigerator, and marinade for at least 6 hours, but not for more than a day. Stir bison strips occasionally to make sure they are covered with the marinade.
3. While the bison is marinating, place bamboo skewers in water and let them soak for at least 30 minutes. The longer the better to prevent them from catching fire over the grill.
4. While the bison is marinating, prepare the peanut sauce. In a skillet, heat peanut or vegetable oil over medium heat. Add the onion and garlic, and sauté until tender.
5. Stir the remaining ingredients into the onions and garlic, and mix well. Heat for 5 minutes over medium heat, stirring constantly.
6. After the bison has finished marinating, remove skewers from water and create shish kebabs with the marinated bison, mushrooms, green peppers, and onions.
7. Brush the kebabs with leftover marinade and place on the grill. Grill for 2-3 minutes on each side.
8. Remove kebabs from grill. Spoon peanut sauce into small bowls and serve as a dipping sauce.