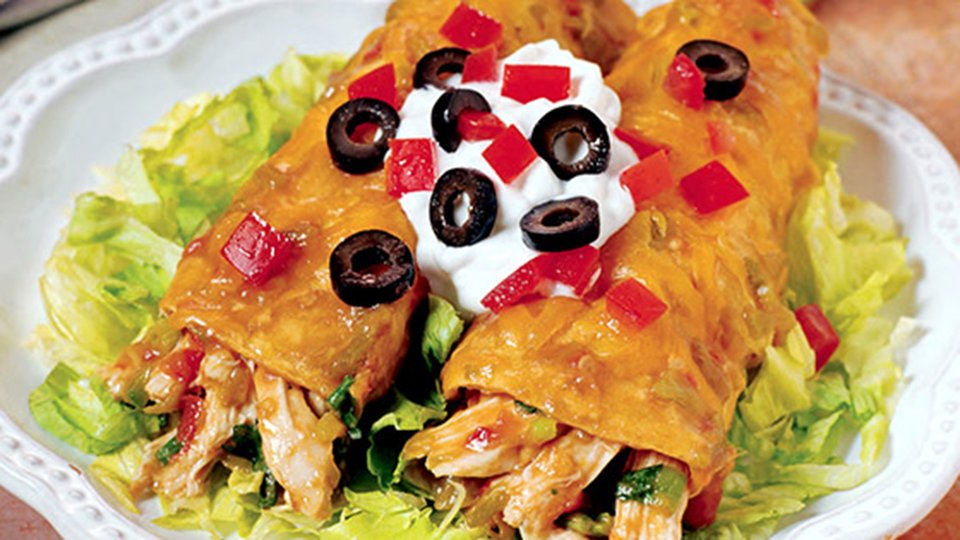 When I was growing up in Golden, Colorado, my mom would make dinner for my brother and sister and me just about every night. One meal she loved to make—and I loved to eat—was chicken enchiladas. By coincidence (or design), this meal fits nicely into this program! It is flavorful, nutritious and super satisfying!
Ingredients
4 piece chicken breast
4 whole green pepper, chopped
2 tbsp cilantro
1 whole jalapeno pepper, diced
6 tbsp red chili sauce
8 whole corn tortilla
2 cup lettuce
½ cup salsa
½ cup reduced-fat sour cream
1 cup, chopped or sliced tomatoes, sliced
2 oz olives
Directions
Preheat oven to 350 degrees F. Lightly coat a 9x13 baking dish with cooking spray.
Place chicken breasts in a large pot and cover with water. Bring to a boil over high heat. Reduce heat to medium and simmer until no longer pink in the center, about 15 minutes. Drain and let cool slightly.
Shred cooked chicken by pulling apart with two forks; set aside.
Lightly coat a large skillet with cooking spray and place over medium-high heat. Add green onion, cilantro and jalapeño, and sauté for 2 minutes. Add shredded chicken and one can of enchilada sauce. Cook, stirring occasionally, until heated through, about 5 minutes.
Pour the two remaining cans of enchilada sauce in a medium bowl and microwave until warm, about 2 minutes. Dip each tortilla in the heated sauce and fill with about 1/8 of the chicken mixture. Roll up and place seam-side down in the prepared baking dish.
Pour remaining heated sauce over enchiladas and sprinkle with cheese. Bake until enchiladas are heated through and cheese is melted, about 15 minutes.
Divide lettuce onto four plates and place a portion of enchiladas on top. Top with a spoonful of salsa, tomatoes, olives, and a dollop of sour cream. Serve and enjoy!