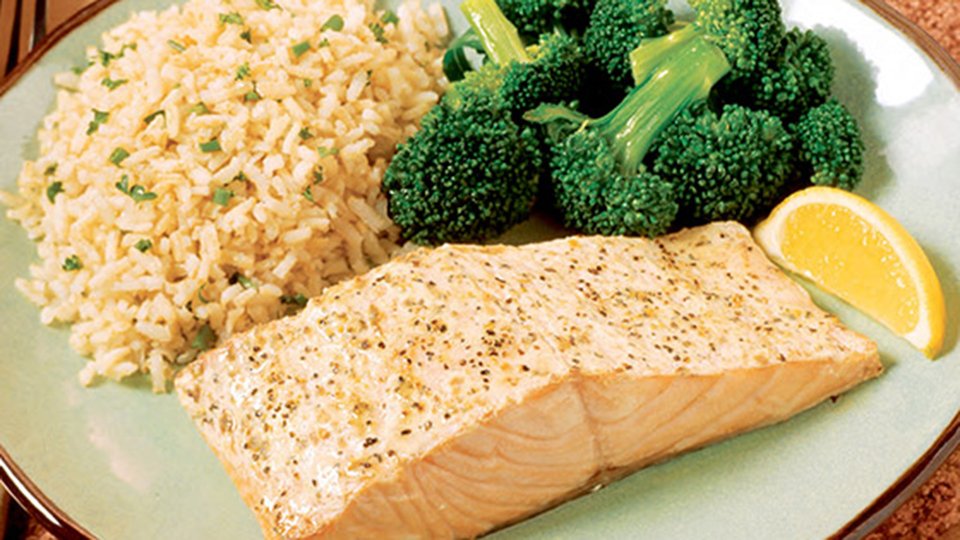 Look, we'd be remiss if we just gave you a dozen sweet treats. This staple meal is a bodybuilder's go-to for gains down the road back to fit. The combo of salmon, brown rice, and broccoli is as classic as Arnold's physique. When seasoned correctly, it delivers a burst of flavor. This recipe will get you full, fit, and satisfied!
Ingredients
½ cup cooked brown rice
2 tbsp fat-free mayonnaise
1 tsp, ground black pepper
2 whole lemon
12 oz salmon, smoked
3 cup broccoli
3 whole green onion, chopped
1¼ cup flat-leaf parsley
Directions
Prepare brown rice according to package directions.
While the rice is cooking, preheat broiler.
In a small mixing bowl, combine fat-free mayonnaise, lemon-pepper seasoning, and the juice of one lemon.
Lightly coat a broiler pan with cooking spray. Place salmon fillets on the broiler pan (skin-side down) and brush lemon pepper sauce over the top. Broil salmon approximately 6 inches from the broiler until the fillets are cooked through and flake easily with a fork, about 12 to 15 minutes.
While the salmon is broiling, steam the broccoli in a covered pan for 6 to 8 minutes or until crisp-tender.
Stir the green onion and parsley into the cooked rice.
Place portions of salmon and rice on two separate plates along with a serving of broccoli. Top the salmon and broccoli with a squeeze of fresh lemon. Serve and enjoy!